It appears to be that Amazon is attempting to compete with the drive-up convenience of stores, like Wawa and 7-11, and the selection of Wal-Mart and Target. Their plan is to invest in brick and mortar locations, and for customers seeking even more convenience, some locations will have drive thru capability where online grocery orders will be delivered to the customer's car.
The company is also developing license-plate reading technology to speed wait times. The new stores are designed to capture the large share of people who prefer to pick out their produce or order their groceries on their way home from work, but would like to avoid the effort of a grocery store.
Online Grocery Trend is Projecting Major Growth
Groceries account for about a fifth of consumer spending, but online grocery purchases make up only about 2% of U.S. grocery sales, according to Morgan Stanley Research. They estimate the online grocery market could more than double to over $42 billion this year.
In a Morgan Stanley survey of U.S. consumers in October of last year, 8% of people said they got fresh groceries delivered and 26% expected to do so this year. The grocery business is very competitive with small margins, except, when the groceries come with a side serving of convenience.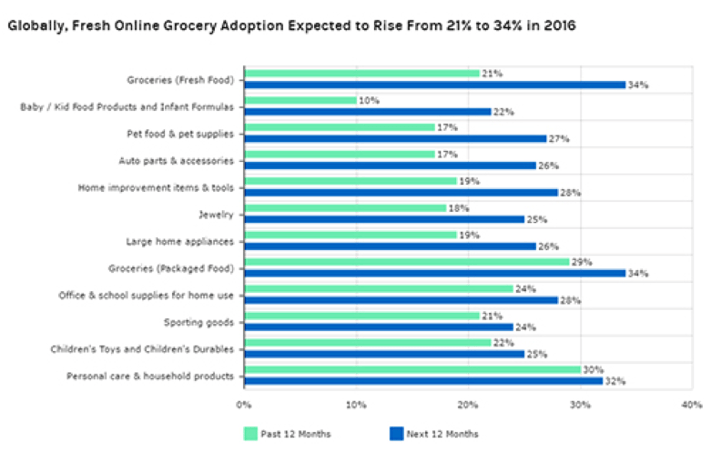 The drive thru idea has merit since the only thing inconvenient about convenience stores is parking and having to exit your vehicle.
The Future is Promising for Online Grocery Orders
Several factors may perhaps be driving the online grocery trend. Generally, more shoppers are accustomed to buying online, including a younger, more mobile generation of consumers who not only expect, but demand speed and convenience. Boutique online-only grocery services like Blue Apron and Freshly have proven recently that the business model can work, overcoming logistical and consumer-behavioral barriers and building credibility for the category as a whole.
Now, larger traditional players have entered the arena, offering more choices, services, and attractive prices, all within familiar ecommerce experiences and expectations for an even larger audience. The anticipated increase in online grocery spending speaks to a shift in the way that consumers think about shopping for food.
It is a reliable business fact that the easier you make the exercise of buying your product the more likely someone will engage in that purchase. The power of convenience is what Amazon and these other online retailers are selling. And buyers seem to be increasingly more agreeable to trade price for that convenience.
For more information on this or any Transportation topic, please contact Land Link Traffic Systems or call 732.899.4242.