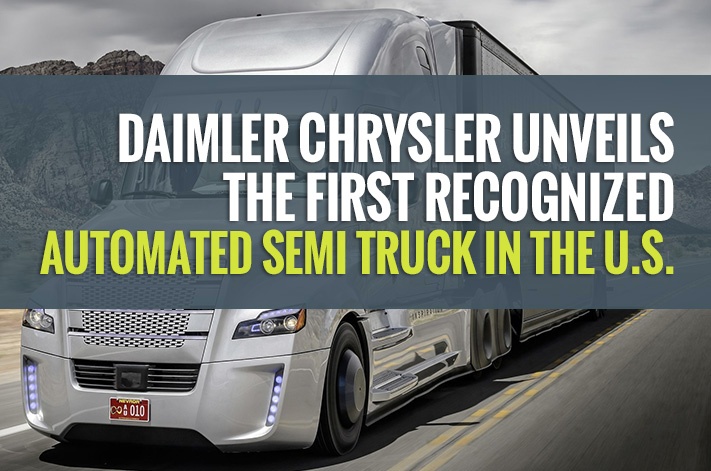 Daimler Chrysler's V.P. of Product Development, Wolfgang Bernhard, and Nevada Governor Brian Sandoval are introducing the world's first officially recognized self-driving truck. The truck they're introducing to the American public is the Freightliner Inspiration, a "tech-ed-up version" of the Daimler Chrysler 18-wheeler sold around the world. According to Daimler, the parent company of Mercedes-Benz, it will make long-haul road transportation safer, cheaper, and better for the planet.
To see more pictures of the truck, click here.
"Not your Father's Semi-Truck"
Although this is a quantum leap in autonomous design, the level of autonomy will be conservatively introduced in these first generation models. This approach is mainly for safety reasons but too much autonomy at once could have a negative affect on the nations unemployment data.
This first autonomous truck will take control only on the highway, maintaining a safe distance from other vehicles and staying in its lane. The driver will have the responsibility of getting the truck on and of the main interstate highways. It won't pass slower vehicles on its own. If the truck encounters a situation it can't confidently handle, like heavy snow that covers lane lines, it will alert the human that it's time for him or her to take over via audio alerts and dashboard icons. If the driver doesn't respond within about five seconds, the truck will slow down gradually, finally coming to a stop.
The brain behind the technology is a system of cameras to maintain traffic lanes and radar to manage forward traffic. The Freightliner is still very much a test vehicle. Both Daimler and the Nevada DMV are confident it's safe for public roads. A conservative testing posture will remain in effect due mainly to the potential damage a malfunctioning 80,000-pound semi truck could do on our nations roads. Federal regulators also want to allow the public to slowly feel comfortable with the idea of fully autonomous commercial vehicles. It may take a decade… but they are coming
The Life They Save May be your Own
According to the most recent data from 2012, 330,000 large trucks were involved in crashes that killed nearly 4,000 people, most of them in passenger cars. About 90 percent of those were caused by driver error. This data supports the push for fully autonomous commercial vehicles. So it's no surprise some of the country's largest freight carriers have in recent years started equipping their vehicles with active safety features like lane control, automatic braking and anti-rollover technology.
Accidents and insurance costs are among the most expensive components of operating a trucking company. There is very strong support among carriers for this technology to be considered standard in the industry. Currently, the implementation is voluntary, but given the government's involvement in public safety, the odds of legislation mandating these safety measures are very likely.
Truck Driving Jobs Aren't Attracting Younger People
I recently visited a local vocational college to attempt to recruit some drivers for a privately owned carrier. Upon arriving, I was introduced to the entire graduating class... all five of them. Everyone knows about the commercial driver shortage, but this was eye opening. Young people are not interested in these jobs at all.
Once the 30-something year olds retire, the driver pool will be nearly extinct. The American Trucking Association predicts the industry could be short 240,000 drivers by 2022 generational but long haul trucking is not an especially pleasant job. Government regulations, moderate pay and time away from family make it an undesirable career path. The continuing popularity of online shopping however is fueling the demand for drivers. Automation may be the only viable alternative.
Transportation Services
Land-Link has been providing its clients with effective transportation and logistics solutions since 1978. We understand that the proper balance of service and cost is essential to the execution of any successful logistics program.