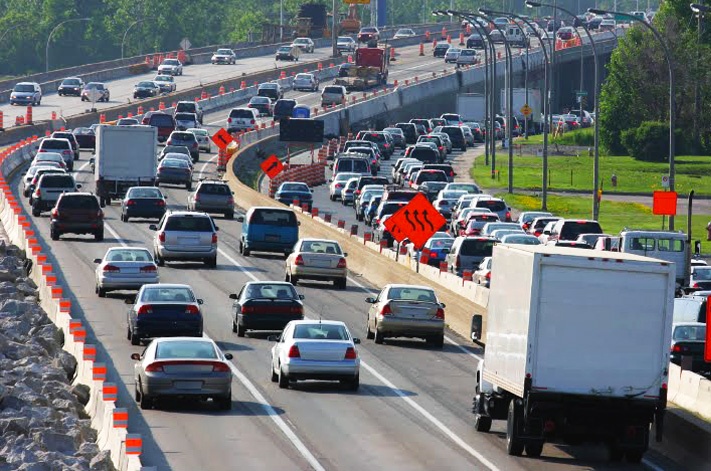 History of the System
The Interstate Highway System, the backbone of U.S. freight transportation, turns 60 years old this week. The intricate system of highways was launched in 1956.
Plans for the nationwide road system were originally hatched in the late 1930s under President Franklin D. Roosevelt, with an initial vision of 26,700 miles of toll road. It wasn't until 1956 that President Dwight Eisenhower signed the Federal-Aid Highway Act and authorized $25 billion for the initial construction of 41,000 miles of interstate highways to be laid from 1957 to 1969. Almost all of the interstate system, more than 40,000 miles, was completed by 1980. The rest was added under recent legislation.
The completed highway system consists of some 46,876 miles of pavement connecting the major U.S. cities, according to the Federal Highway Administration. This extensive system of highways allowed for nationwide commerce and personal travel making the United States truly united.
Modernizing the Interstate System
Last year's Fixing America's Surface Transportation Act ensures that more work will continue. Signed by President Obama on Dec. 4, the FAST Act authorizes $305 billion for road and bridge work as well as railroads. There are 58,495 structurally deficient bridges, according to the 2015 National Bridge Inventory.
In the early years, semi-trailers traveled 28.8 billion miles in 1960. They traveled six times that much, or 169.8 billion miles, by 2014, the latest data provided by FHWA show. Truck tonnage has increased by 231% since the interstate system began, according to American Trucking Association. Of all the domestic freight that moved last year, 70.1% crisscrossed interstates by truck, the federation said. Funding for the interstate system relies heavily on the 24.4 cents-per-gallon federal diesel tax and the 18.4 cents-per-gallon federal gasoline tax, which have not been raised since 1993.
The Future of Transportation Infrastructure

It is no secret to the American public that our infrastructure greatly needs TLC. That is why states like New Jersey are fighting so hard to get a transportation budget passed that would increase the state gas tax and provide a 10-year, $20 billion plan to invest in roads, bridges, rail and other infrastructures. It also explains why states like Wisconsin, Illinois and Tennessee are lamenting their lack of funding for much needed infrastructure improvement projects. Even in our nation's capital, the subway system is undergoing tedious maintenance and the iconic Memorial Bridge is facing potential closure in five years due to increased vulnerability, lack of maintenance, and not enough funding to fix it.
On a more positive note, there are many states that are making steps toward not only funding their infrastructure but advancing and innovating their cities. In fact, the city of Columbus, Ohio, recently beat out 77 other cities to win the U.S. Department of Transportation's Smart City challenge, which awarded them $40 million to kick off new transportation strategies.
Land-Link Traffic Systems is your one stop shop for all of your Supply Chain, Logistics, and Transportation Management needs. To read more about our services, click the button below.