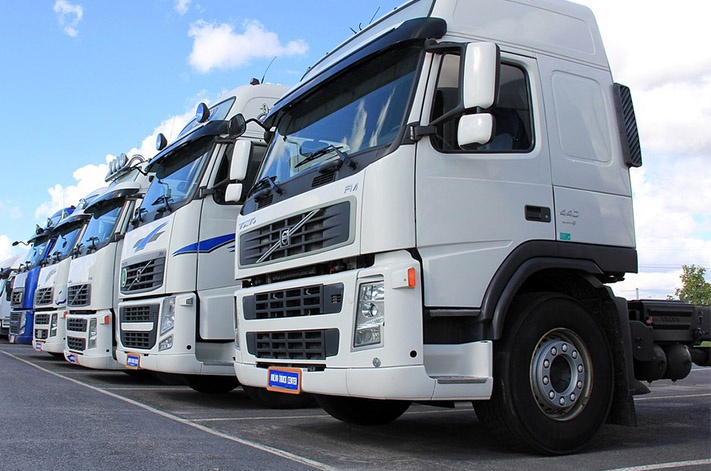 Autonomous trucking technology companies have popped up everywhere in the past 12 months, each with similar technology that is focused on clearing two very important hurdles: getting the truck on and off the highway.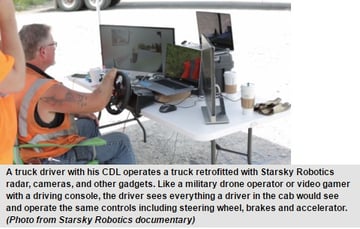 Autonomous commercial truck operation has been limited to major interstates. In the first stage of commercial automation, a driver has been necessary to operate the 80,000 pound wrecking ball on wheels on local surface streets for pickup and delivery. Starksy Robotics, a San Francisco-based startup company, is among several companies tackling the problem of how to autonomously drive a truck before it gets on an interstate and once it gets off. The company's aftermarket retrofit kit remotely controls the throttle, steering and transmission, mirroring the driver's input from back at the office who uses the data feed from the truck's cameras and data feed to get a sense of its surroundings.
Instead of a physical driver in the cab, the truck can be piloted by a qualified CDL driver from a remote location. Like a military drone operator or video gamer with a driving console, the remote driver will see everything a driver in the cab would see and operate the same controls including steering wheel, brakes and accelerator. The remote driver will be able to operate several trucks per day from both pickup locations to the interstate, where full truck autonomy would take over or from the interstate to the final mile delivery where full autonomy would disengage and the remote driver would take over.
The application is being met with initial push back from drivers but, upon further inspection, the driver benefits become clear. No more time away from home. Hours of service regulations will be much less challenging to manage. And, certainly the stress of piloting a truck remotely must surely be less than the real thing.
Many have pegged autonomous driving as the cure for a driver shortage by simply phasing humans out of the job entirely. The goal of these pioneering companies is much simpler: Give drivers more home time, and make the job and the work environment more appealing, and safer, for potential applicants.
President Trump's newly-appointed Department of Transportation Secretary Elaine Chao wants to speed up implementation of autonomous trucks. Speaking at the National Governor's Winter Conference in November, she said that the president is interested in advancing autonomous vehicles and removing regulations put in place by the Obama administration.
To stay up to date on this and other Logistics Industry topics visit us @ http://www.land-link.com/blog