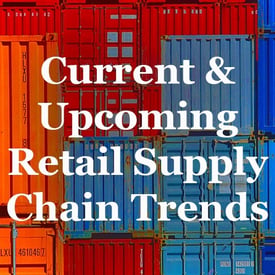 Growing consumer demand and ever increasing intolerance for lengthy transit times are forcing retailers to adopt a strategy that will most immediately and economically satisfy the customer demand. Retailers are looking to provide a fulfilling in-store or online experience while managing efficient inventory levels and offering next day delivery of in store and online items.
The disappointment of not having the item in stock is appeased by the option to have the item the next day at one's doorstep. Two or three day delivery options are simply not an option any longer for most consumer items, since Amazon and Wal-Mart are offering next day delivery on most anything they sell. With the dramatic growth of online ordering, this next day fulfillment model needs to be managed closely from a cost perspective in order to maintain profitability.
Some Cost Issues Retailers Will Need to Manage
Carrier Capacity - "Carrier Capacity" is perhaps the most referenced phrase in the trucking industry over the last several years. That doesn't mean it's exaggerated. Carrier capacity is the number one obstacle to on-time order fulfillment. Autonomous commercial vehicle technology is expected to alleviate this issue, but no one knows when and to what degree this option may help capacity.
Warehouse Efficiencies - The speed at which orders must be filled will require some level of automation by the distribution center. The individual pick and pack method used by most standard warehouses today simply cannot meet the current speed demand. Surprisingly, these warehouse facilities are also having qualified labor shortage issues. Warehouse owners have been reluctant to make the investment in automation. However, to play in the online ordering sandbox, capital expenditure is required.
The investment in automation equipment for an average size warehouse is in the millions of dollars. In addition to automation, retailers will be looking for warehouse functions to include customer direct shipping, store inventory management and return servicing. These additional services wil, of course, require additional investment in software and computer equipment.
The final consideration is location. Ten years ago, you might be able to reasonably service your nationwide retail stores with 6-10 distribution centers. Today, you may need twice that number in order to maintain required transit times demanded by today's consumer.
Putting it all Together
To recap everything we discussed, as a Logistics Professional, all you need to do is negotiate freight rate agreements with multiple national and regional carriers that will guarantee capacity for your products for at least the next 12 months. The trouble is the bulk of the negotiating power today is with the trucker given the capacity issue. Then, you have to identify distribution centers, which are qualified to meet the unique distribution demands of your products, in locations that are centralized to in your major markets, while knowing to the square foot how much space you will need monthly in each facility. And finally, after you have accomplished these tasks be sure you turn a profit or it was all a waste of time.
Seek the Guidance of a Professional
3rd Party Logistics companies can be very helpful in this tricky logistics planning and negotiations. The have relationships and volume pricing options with trucking providers nationwide as well ad distribution solutions. For expert guidance on your logistics challenges, contact us today.
To learn more about achieving the proper balance of service and cost within your supply chain, click the button below to download our free whitepaper on this supply chain topic.