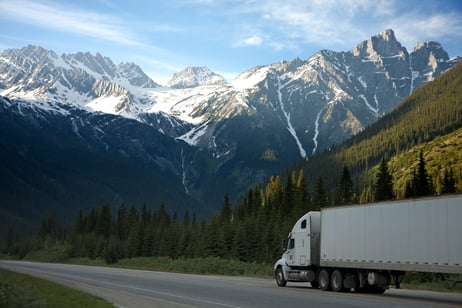 Freight Transportation in the Gulf Coast area, and as a result, the rest of the U.S., is expected to be experiencing major delays for the coming weeks. Harvey has left in its wake, flooded roads, downed power lines and hundreds, perhaps thousands, of disabled tractors. The storm also could generate a rise in long-term trucking contract prices according to a report by analysts at FTR Transportation Intelligence.
Hurricane Harvey made landfall this past weekend near Houston, and now is lingering as a wet tropical storm expected to dump as much as three feet of rain in some areas over the coming week. It could "strongly affect" more than 10 percent of all U.S. trucking this week and 7 percent next week, the FTR report said. In addition to delaying shipments and damaging equipment, impacts include significant pricing effects. It's simple economics. Major impacts on availability, like the LTL carrier strike of the 90's, Hurricane Katrina and the winter storms of 2014 have had historically similar affects. Katrina spawned an average 7 percentage points hike in annualized pricing nationally for the subsequent five months, the LTL carrier strike left thousands of shipments stranded and the winter storms of 2014 caused a 22 percent year-over-year increase in spot pricing. Houston also is a major intermodal shipping site and the storm may have persistent impact on rail shipments as well as on trucking. There is no report on damage to the Gulf Area seaports.
Severe weather impacts trucking in four principal ways, according to FTR:
Idling trucks as they wait for water to recede from roads and loading docks;
Prioritizing shipment of relief and emergency construction supplies over regular freight;
Slowing overall operations due to congestion on roadways and in freight loading areas;
Reducing productivity with out-of-cycle supply chain demands.
Of Course There is the Impact of Refined Gasoline
Even though the affected shipments of fuel take 7-10 days to reach your local fuel station, prices seem to rise only days after catastrophic events. You don't need to be a cost accountant to see the discrepancy here. Because Texas is home to about 30 percent of U.S. oil refining capacity, much of it centered around Houston, production of diesel fuel and other petroleum products is expected to be hit especially hard. As of August 31'st Northeast prices have risen about 8%. Today a major gasoline pipeline which services the Northeast U.S. was shut down. Prices are likely to rise significantly through most of September as a result.
One Industry Setback is Another's Opportunity
While Harvey has decimated the trucking and oil refining business, it will certainly be providing opportunity for other businesses like emergency management, water capable vehicles and temporary housing. Following Hurricane Katrina, the Federal Emergency Management Agency spent $2.7 billion on roughly 145,000 trailers and mobile homes for those displaced by the storm. It is likely that FEMA will again purchase temporary housing for displaced residents and emergency personnel aiding in the relief efforts. Some early estimates suggest the number of displaced residents from Hurricane Harvey is probably smaller than Katrina and the need for temporary housing might be as low as 15,000 units.
Tips If You Have Freight Affected By Harvey
You need help. Your limited carrier base is unlikely to be able to help. Reach out to an experienced 3rd Party Logistics Provider which has a wide range of carrier options nationwide. At Land Link Traffic Systems, we will make every attempt to assist you in this time of need. Please visit us at www.Land-Link.com.