Today's technologies have enhanced the global exchange of information about goods and bolstered transportation networks moving items across borders. The Internet has provided purchasers of goods and services access to a global market with delivery options, from standard to expedited and everything in between. In the commercial markets, things get a little complicated due to global currency transactions. The current payment, clearing and settlement systems are major bottlenecks to the flow of global trade. They are inefficient, have long settlement times and high-cost fees and exchange rates. The ideal solution would be a common worldwide currency. Although the Euro has helped simplify currency transactions in Europe, a common worldwide currency is unlikely. Bitcoin may be a viable option to ease the currency bottleneck.
Virtual Currency
A virtual currency or virtual money has been defined in 2012 by the European Central Bank as "a type of unregulated, digital money, which is issued and usually controlled by its developers, and used and accepted among the members of a specific virtual community." A widely accepted virtual currency is a possible solution. Bitcoin is the most popular virtual currency.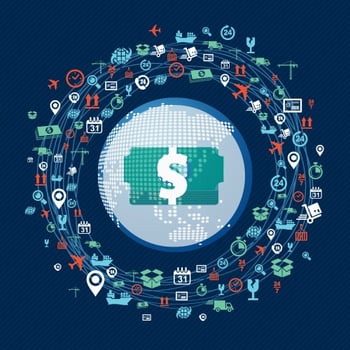 Bitcoin is a new currency that was created in 2009 by an unknown person using the alias Satoshi Nakamoto. Transactions are made with no middlemen, meaning, no banks and no transaction fees. Bitcoin introduced a decentralized currency system based on a peer-to-peer network where currency is not issued per se; instead it is mined, for security measures, with advanced computers by cracking difficult math-based equations.
Bitcoins are widely accepted by merchants for services from webhosting, to pizza or even manicures. International payments are easy and cheap because bitcoins are not tied to any country or subject to regulation. Small and large businesses may like them because there are no credit card fees. More than 100,000 businesses already accept Bitcoin, including large companies like Microsoft, Home Depot, Dell, CVS, Expedia and Amazon. The future of virtual currency is unsure. It is mostly unregulated, but that could change. Governments are concerned about taxation and their lack of control over the currency.
Can Virtual Currency Improve the Flow of Goods?
Today's technology platforms are fostering a globally accepted exchange mechanism, which would not require a unified monetary system. Currency will become easier, cheaper and more secure. Our whole concept of money and how it gets exchanged is going to change as we become increasingly digitized. Virtual currency like Bitcoin can be sent across borders without going through multiple intermediaries and currency swaps.
In a move toward truly global e-commerce, Rakuten Super Logistics U.S. (formerly Webgistix) announced that they will begin accepting bitcoin payments from their customers. Rakuten Super Logistics U.S. is a leading global provider of business-to-business order fulfillment services and software to online retailers. By utilizing bitcoin for payments, the company is positioned to meet the needs of e-commerce retailers who are among the most forward-thinking global businesses embracing the bitcoin technology.
Large retailers like Overstock.com and Dell Computers are accepting virtual currency for payment. Their acceptance of this form of digital payment is due in part to services from companies like BitPay, Coinbase, and Blockchain that are making it easier for retailers and consumers to accept and use bitcoin by eliminating the transaction risk. These companies provide increased security and direct deposit integration between buyer and seller. Furthermore, the fees to transact in bitcoin are significantly lower than using Visa, MasterCard or American Express and there is zero chargeback risk for the retailer.
When it comes to supply chain and enterprise applications, there is a growing trend toward providing currency transaction applications in the cloud. At a recent Oracle Value Chain Summit, Mark Hurd, the CEO of Oracle, said "cloud applications will account for 50 to 60 percent of the total enterprise application market within 5 to 6 years because of advantages related to speed of development of new functionality, easier implementations and much, much easier upgrades."
Clearly there is a significant move toward virtual currency in the Global Logistics market to ease the financial transaction bottleneck slowing global commerce. What are your thoughts on virtual currency? Leave your comment below and let us know.
To learn more about Logistics News, click the button below!