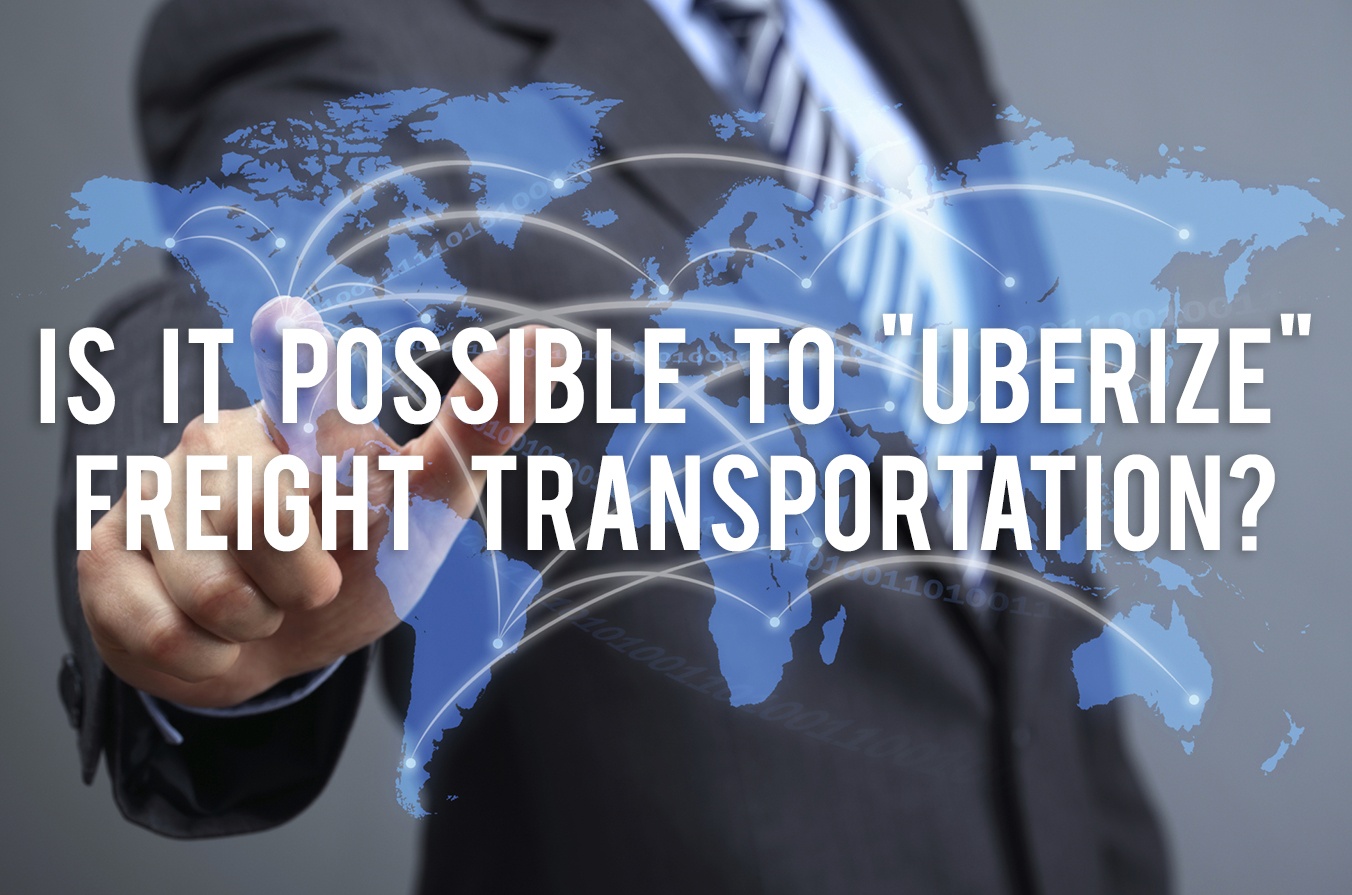 The short answer is sure. If you're willing to negotiate your own pricing on each individual shipment with a carrier you have likely never used before and assume the risk for the actions of a driver you have never used.
A shipper must consider the potential brand impairment, customer service experience and overall value of routing your freight in this fashion. The Uber type apps that are hitting the market for freight transportation are simply a digital form of a brokerage arrangement. In the 800 billion dollar freight market there will be room for Uber type applications but I would argue only for shipments with limited value, flexible delivery windows and for a customer that you do not rely upon.
According to The Verge, "Convoy, a Seattle-based company that presents itself as "Uber for trucking," launched recently. The online service and app pairs shippers with available local carriers based on proper equipment, payload, capacity, and distance. Convoy gives pre-approved carriers the option to accept or decline a job based on the listed price, which eliminates haggling, a hallmark of the trucking business."
But buyer beware. Carriers simply need to have the requisite authorities and insurances to qualify to use the app. There are no safety requirements, driver history or carrier reliability data necessary to qualify. This lack of vetting carriers opens up shippers to a myriad of potential danger not the least of which is contingent liability. Failure by a shipper to properly qualify a carrier to transport its freight can result in that shipper sharing legal and financial liability in the event of an accident. Here are some value added considerations shippers rely upon when choosing a qualified 3PL over a broker type transaction;
Vast Network of Adequately Vetted Carriers
3PL's have a vast resource network of established and vetted carriers. Using a 3PL's resource network, pickups and deliveries can be executed in the most efficient, cost effective way. 3PLs can leverage relationships and volume discounts, which results in lower overhead and the fastest possible service. Choosing a 3PL provider allows your company to benefit from resources which are unavailable in a lowest bidder environment.
Expertise
3PLs are knowledgeable of industry best practices and stay up to date with the latest developments in technology. 3PL software is capable of advanced reporting, inventory management, and provides on demand visibility to monitor the entire process for both operations, shippers and consignees. 3PL experts have the ability to employ premium services such as Just in Time transportation to ensure the correct amount of inventory is shipped when and where you need it, temperature protection, high security, constant surveillance and a host of other custom services. Outsourcing logistics allows your company to focus on your core competencies, and leaves the rest to the experts. 3PL services will allow you to have peace of mind knowing your logistics needs are being handled by reliable, seasoned professionals.
Cost Savings
One of the primary reasons for sourcing to a 3PL is cost savings. Using a 3PL provider eliminates the need to invest in warehouse space, technology, transportation, and staff to execute the logistics process. 3PL providers are experts at what they do just like you company's attorneys and accountants. Choosing that provider demands the same consideration. 3PLs can customize a plan to handle your paperwork, billing, audits, training, staffing, and optimization involved to get your goods where they need to go.
Scalability and Flexibility
A benefit of using a 3PL provider is the ability to scale space, labor, and transportation according to inventory needs. Businesses with seasonal periods can enjoy stress free transitions between industry ups and downs, having the ability to utilize more space and resources when needed. Using a 3PL provider allows your business to take advantage of expansion opportunities in new markets. 3PL providers have distribution centers and warehouses strategically located to allow for quick shipping of goods to anywhere in the world. 3PL providers have the resources to seamlessly support your growth initiatives.
Continuous Optimization
There is one truism about software. It becomes obsolete very quickly. A 3PL has to have the latest and greatest when it comes to Transportation optimization software. 3PL software platforms will ensure your needs are met, by using the fastest, most efficient, and cost effective routing methods. 3PLs have the tools to restructure the supply chain, and use technology that ensures the proper amount of goods arrive when and where you need them. Enhanced management software can analyze and monitor practices to eliminate inefficiencies, streamline the supply chain and provide management reports. Third Party Logistics providers can help maximize profits, reduce wait times, and improve your overall customer service for both you and your customers.
So, be prepared for the Uberization of the freight industry. But at Land Link Traffic Systems we want you to be educated to the potential dangers of handing your brand integrity to just any carrier. As always our Transportation professionals are standing by to assist you.
To learn more about using a 3PL Provider, click the button below.