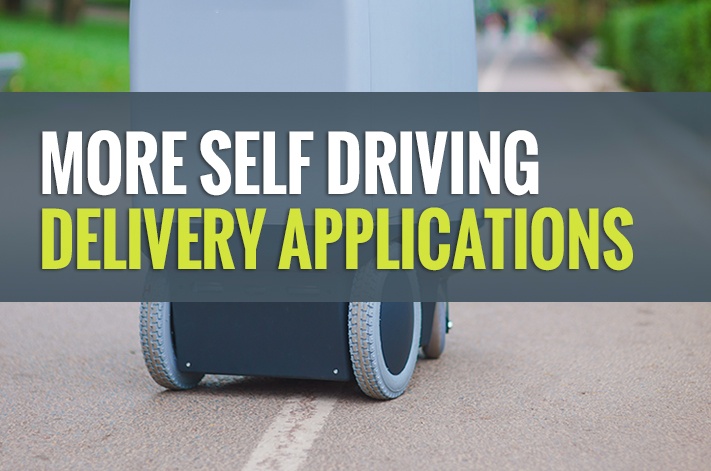 On-demand delivery continues to set the standard expectations of today's consumer. To meet the demand startup, Dispatch has designed and is manufacturing motorized autonomous delivery vehicles for use on sidewalks and pedestrian spaces. Dispatch co-founder Uriah Baalke has said, "Our goal is to fulfill the demand for low cost local delivery and build a system that can scale and that can operate in all locales efficiently."
Dispatch wants its autonomous vehicles to make on-demand delivery available to the masses. The Dispatch founders said they hope that the vehicles will mitigate the cost of delivery because it can save labor costs by bringing packages right to a customer's door. This is another example of technology and robotics enhancing the consumer experience, but it also impacts jobs in the field.
Prototype
Dispatch's first vehicle, nicknamed "Carry," has four compartments that can carry a total of 100 pounds. The vehicle speed is governed to match the pace of pedestrians on sidewalks and bike paths, and is programmed to complete multiple deliveries per trip.
To discourage theft, the vehicles are designed with enough weight that it would take two people to pick it up… much like the intent in safe design. Carry is also connected to a 4G network for accurate delivery routing and alarms if the unit goes off route. Not surprisingly, Dispatch is testing the concept on the West coast. At Menlo College and CSU Monterey Bay, units are used to deliver students their mail, packages and other things. Students can track Carry's location and get notified when it arrives. Once the robot rolls up, students can unlock and access their package using their phone. One can see these units replacing mail services.
How it Works
Carry has a set of sensors on board and uses artificial intelligence techniques to learn how to act in a way that is safe and comfortable for humans. AI technology actually allows for programming adjustments based upon each experience and interaction with humans. The unit can actually learn the most appropriate and accepted behavior to interact with humans.
A Continued Movement toward Replacing Humans
There is an interesting pattern developing in our new delivery economy. It seems to be trending away from W-2 employees and their related costs and trending toward contracted employees such as Uber, Lyft and countless other delivery services. Once the autonomous vehicle technology is perfected and federal legislation successfully satisfied these contracted jobs will be all but gone. A human will not be able to compete with a robot on cost, reliability and endurance. I'll be first in line to purchase an autonomous vehicle and put it on the Uber platform to drive 24 hours a day.
Watch the Video:
Transportation Services
Land-Link has been providing its clients with effective transportation and logistics solutions since 1978. We understand that the proper balance of service and cost is essential to the execution of any successful logistics program.