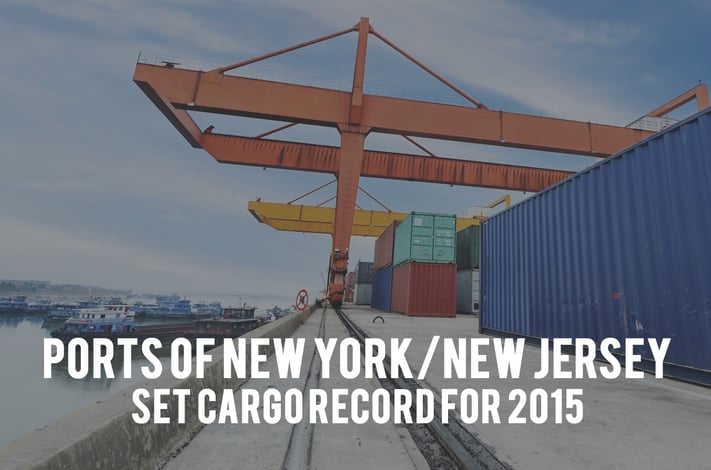 During 2015, the Ports of New York and New Jersey handled 6,371,720 twenty-foot equivalent units (TEUs) or 3,664,013 cargo containers, an increase of 10.4 percent compared with 2014. The record volumes allowed the port to maintain its position as the East Coast's busiest port, with nearly 30 percent of the total market share, PANYNJ officials said in a press release.
New Records Across the Board
ExpressRail, PANYNJ's ship-to-rail system serving New York and New Jersey marine terminals also set a new record, handling 522,244 containers, an increase of 12.2 percent compared with 2014's total, the previous best year for rail activity. In 2015, the port also handled 477,170 vehicles, a 21.5 percent increase compared with 2014. During 2014, China remained the top import country serving the port, with 923,975 import containers. Following China are Germany (179,715 import containers) and India (176,621 import containers). The top import commodities in 2014 were furniture, beverages and appliances.
Interestingly, the number of vessel calls at the port are pointing to a contradictory trend suggesting that larger ships are transporting the cargo arriving in the port. This trend is likely to continue. In anticipation of this trend, the port authority has under way two projects to make the port more attractive to the post Panamax vessels servicing the east coast. Work is continuing on the 50-foot harbor, deepening project, which is expected to be completed in 2016.
Project Details
The authorized project provides 50 ft water access to the four container terminals by deepening Ambrose Channel from deep water in the Atlantic Ocean to the Verrazano-Narrows Bridge, the Anchorage Channel from the Verrazano-Narrows Bridge to its confluence with the Port Jersey Channel, the Kill Van Kull Channel, the main Newark Bay Channel to Pt. Elizabeth and the Port Elizabeth and South Elizabeth tributary channels, the Arthur Kill Channel adjacent to the New York Container Terminal, and the Port Jersey. The total cost is estimated at $1,634,000,000.
The second, and much bolder project is the raising of the Bayonne Bridge, a 1.3 billion dollar project. The bridge was built in 1931 with a clearance of 151 feet, which easily accommodated ships of that era. Today, even modest size ships will struggle to pass under at high tides. The project is expected to raise the clearance to 215 feet easily accommodating the new era ships. The project has run into some significant delays. The new projected completion is summer of 2017, nearly a year later that originally forecast. Clearly that original price tag will be increased. Here is an interesting animation describing just how the bridge will be raised.
For more logistics and transportation news, click the button below.