The FDA Food Safety Modernization Act rule on Sanitary Transportation of Human and Animal Food has recently been finalized, advancing the FDA's efforts to protect foods from farm to table by keeping them safe from contamination during transportation.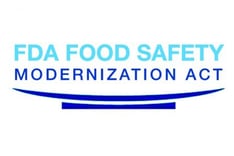 The earliest compliance dates for some firms begin one year after publication of the final rule in the Federal Register. The FDA has outlined broadly what shippers and their agents, such as brokers and carriers, must accomplish in areas, such as cleanliness of equipment, worker training, record-keeping, prevention of cross-contamination and temperature control to keep food safe to eat. It is the responsibility of Logistics personnel to be aware of these regulations when arranging for transportation of product for which these regulations apply.
One of the most glaring examples of the failure to adequately arrange for the transportation of consumable product is the Chi Chi's Restaurant chain bankruptcy. The sale followed one of the worse hepatitis A outbreaks in American restaurant history in November, 2003 at a Chi-Chi's in the Pittsburgh area. Four died and 660 others contracted the illness, eventually traced to green onions at the Chi-Chi's at Beaver Valley Mall in Monaca, Pa. By some estimates the logistics department made a billion dollar mistake.
Failure to maintain and, equally important, monitor temperature of perishable cargo in transit must be a paramount concern in the supply chain for perishable goods. Here is an overview of what you should be aware of:

The Major Elements of the FDA Food Safety Modernization Act

The elements can be divided into five key areas:
Preventive controls- For the first time, FDA has a legislative mandate to require comprehensive, prevention-based controls across the food supply to prevent or significantly minimize the likelihood of problems occurring.


Inspection and Compliance - The legislation recognizes that inspection is an important means of holding industry accountable for its responsibility to produce safe food. FDA is committed to applying its inspection resources in a risk-based manner and adopting innovative inspection approaches.


Imported Food Safety - FDA has new tools to ensure that imported foods meet U.S. standards and are safe for our consumers. For example, for the first time, importers must verify that their foreign suppliers have adequate preventive controls in place to ensure safety, and FDA will be able to accredit qualified third party auditors to certify that foreign food facilities are complying with U.S. food safety standards.


Response- For the first time, FDA has mandatory recall authority for all food products. FDA expects that it will only need to invoke this authority infrequently since the food industry largely honors our requests for voluntary recalls. The agency has other new authorities that are also in effect: expanded administrative detention of products that are potentially in violation of the law, and suspension of a food facility's registration.


Enhanced Partnerships- The legislation recognizes the importance of strengthening existing collaboration among all food safety agencies—U.S. federal, state, local, territorial, tribal and foreign--to achieve our public health goals. For example, it directs FDA to improve training of state, local, territorial and tribal food safety officials.
Compliance Ready
Protect your customers and your Brand by ensuring your logistics departments' compliance to these federal regulations is up to date. The Logistics professionals at Land-Link.com can help. Contact us today for a review of your Food Safety Modernization Act compliance policy.