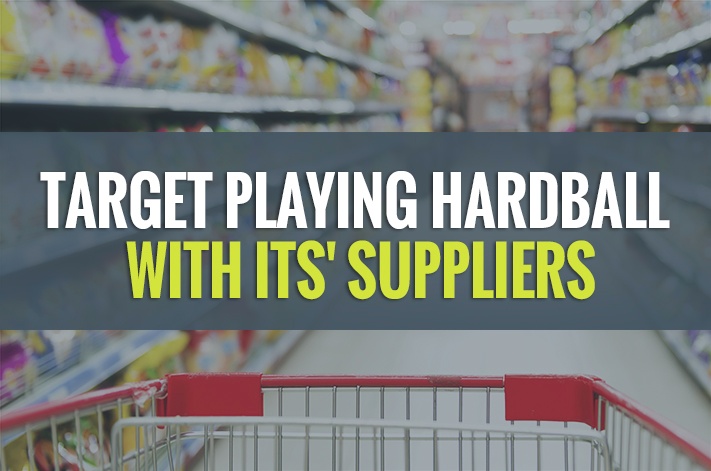 In the ultra-competitive retail world, Target is looking to supplier costs to improve supply chain efficiencies similar to the demands Wal-Mart placed on suppliers last year. According to several sources, Target plans to reduce windows for deliveries to its warehouses, increase penalties for late deliveries, and potentially institute penalties of up to $10,000 for inaccuracies in product information.
Target's new policy applies to all types of merchandise, but food is a key focus. The company introduced perishable goods such as meat, fresh produce and dairy products several years ago and has experienced logistical difficulties as a result of perhaps being ill-prepared to play in the perishable sandbox. The Target food distribution network is still in its infancy. It is expected that the company will continue to add highly automated perishables and frozen food distribution centers to service future expansion in key markets. Target has committed $5 billion in supply chain and technology infrastructure upgrades through 2017.
Capitalization Woes
Targets market capitalization has taken a hit this year. Supply chain efficiency improvements are only one area of potential improvement. Recent social policies have come under fire by social conservative groups which have circulated an online boycott pledge which has in excess of 1.2 million signatures to date.
A dip in Target's stock price occurred around the same time as a boycott against the store's transgender bathroom policy. The company's stock was two cents shy of $84 on April 19, when it revealed it would not allow shoppers to use single-sex bathrooms or changing rooms. Instead, all rooms were opened up to anyone claiming to be of either sex. As of 4.00 p.m. Friday, the stock had dropped almost $4.50; down to $79.50.That's a huge loss of 5 percent in stock value, costing shareholders roughly $2.5 billion in company value. The stock is trading at $79.90 today.