Over the past 3 years, the National Transportation Safety Board has investigated nine rear-end accidents involving passenger or commercial vehicles striking the rear of another vehicle, the result of which was 28 fatalities and 90 injured people. In 2012, rear-end crashes resulted in 1,705 fatalities and represented almost half of all two-vehicle crashes.
These statistics make a compelling argument for the Federal Department of Transportation and the National Transportation Safety Board to support legislation requiring the mandatory installation of forward avoidance collision systems on all new class 8 trucks. An average class 8 truck and trailer filled to legal capacity will max out at 80,000 pounds. A fully loaded semi travelling 65 miles/hour will need 525 feet to come to a full stop on a dry, even roadway. This calculation estimates a normal reaction time by the driver. Add fatigued driving to the equation and the number can increase dramatically.
A complete forward Collision Avoidance System (CAS) works by monitoring the environment either via lidar (light detection and ranging), radar, camera, or a fusion of different technologies for potential conflicts, such as a slow moving or stopped vehicle. Then, when it detects a conflict, it begins the process of alerting the driver by initially preparing the brakes in anticipation of braking and alerting a driver through different warning cues. If the conflict persists, the system initiates Automatic Emergency Braking or provides additional braking force if the driver brakes too late or not strongly enough. The effectiveness of the forward CAS depends heavily on the accuracy and timeliness of detection, which relies on the quality of the installed sensor, camera, or vision algorithm detecting targets.
Con-Way Freight Systems conducted a safety review of their vehicle with and without any safety systems and submitted their finding to the NTSB. The results are represented in the graph below.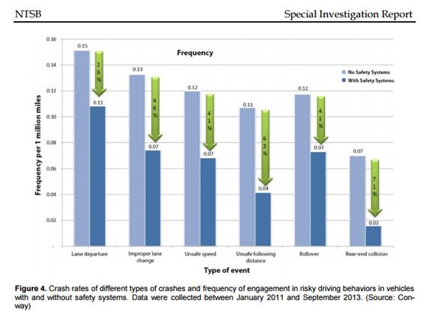 The Benefits of Forward CAS Usage
Predicted benefits research, insurance claim data, and field research by various private entities, government agencies, and universities showed a significant benefit from the use of forward CAS. It is worth noting that the research on the efficacy of forward CAS in highway, especially commercial vehicles, has largely focused on the capacity of those systems to prevent rear-end crashes. However, mitigating the impact of a crash can also prevent fatalities. Therefore, the NTSB concludes that, while focusing research on how forward CAS can prevent rear-end crashes is important, mitigating a crash is similarly important.
According to one industry estimate, 8–10 percent of class 8 truck-tractors in the United States in 2013 were equipped with a forward CAS. Many commercial fleet owners have made a decision to equip new tractors with a forward CAS voluntarily ahead of the expected legislation mandating the deployment. The benefits of acting early and voluntarily can have a positive affect on customer relations and have a stabilize, if not reducing, liability premiums for carriers.
NTSB Recommendations
Install forward collision avoidance systems that include, at a minimum, a forward collision warning component, as standard equipment on all new vehicles. (H-15-8)
Once the National Highway Traffic Safety Administration publishes performance standards for autonomous emergency braking, install systems meeting those standards on all new vehicles. (H-15-9)
Technological advances have been mind boggling in the last 10 years. Most advancements have increased our convenience, entertainment and efficiency. The particular advancement of the CAS systems for both commercial and passenger vehicles undeniably save lives. This benefit far out ways those formally mentioned.
Click below to download a free copy of "8 Reasons Why You Should Use A 3PL Provider"!