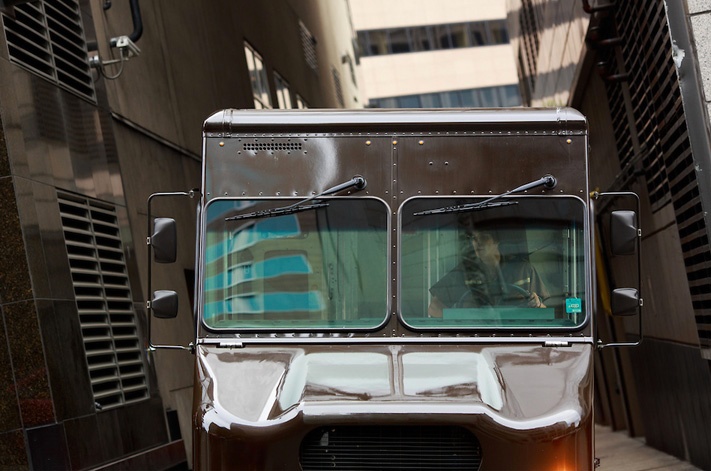 UPS is adding 300 self-service package-pickup lockers across the country to solve a problem annoying both UPS and its customers: missed deliveries. The move is intended to address several issues facing the delivery giant including the cost of missed deliveries, theft of left packages and the anticipated increase in residential deliveries from online orders.
About the Locker Program
Deliveries and re-deliveries of packages requiring a signature is simply too expensive. The locker option eliminates the need for both while creating a minimal inconvenience for the recipient.
Thieves are targeting the entrances of homes in the hopes of intercepting deliveries. Every time a package hits a doorstep, porch or mailbox there is a window for thieves to swoop in and steal the goods. These thieves have been dubbed "porch pirates," and they pillage the packages by either waiting at a property for deliveries or simply following delivery trucks around.
Combating the problem falls mostly on the homeowner since the delivery company's responsibility for the package ends once it is laid on your porch. A video surveillance system or motion activated lighting are the best deterrents. Aside from losing money and potentially irreplaceable goods due to package theft, there is also the risk of being a victim of something much more sinister: identity theft. Many packages and mail in general contain personal information that can be used to hijack your existence and cause irreparable damage.
The avoidance of all of this peril and the potential cost of defending package theft make the locker option very attractive. Members of UPS' My Choice delivery-management service can choose to have their packages sent to the lockers or leave packages for pickup. A UPS driver who decides it wouldn't be safe to leave a package outside the recipient's home can also redirect the package to an in-store Access Point or locker if one is nearby.
Trends with Online Purchases
U.S. consumers will spend $327 billion online in 2016 according to Forrester Research. Online shoppers in the United States will spend $327 billion in 2016, up 45% from $226 billion this year and 62% from $202 billion in 2011, according to a projection released by Forrester Research Inc.
In 2016, e-retail will account for 9% of total retail sales, up from 7% in both 2012 and 2011, according to the report, "U.S. Online Retail Forecast, 2011 to 2016," by Forrester analyst Sucharita Mulpuru. This represents a compound annual growth rate of 10.1% over the five-year forecast period.
In response to the demand trends, retailers are making every effort to maximize the effectiveness and consumer experience from the company website. This is particularly true of categories such as apparel and jewelry, which have integrated rich selling tools such as zoom, color swatching, and configurators, as well as office supply stores, which have broader payment options and subscription plans for their buyers. It is conceivable that websites in the very near future might incorporate 3-D technology to enhance the shopping experience by creating a virtual reality environment where shoppers can come as close to being in the store as possible.
As e-commerce explodes, the pressure is on for companies to delight online customers, and tempt new ones to fill electronic shopping carts. Much of a merchant's success will depend on whether it develops a fulfillment operation that delivers exactly what customers want.
Delivering on the Demand
A cool shopping experience aside, it is impossible to ignore the upward trend of online ordering. Carriers and Logistics providers must anticipate and adapt to the growing demand, as they have a relatively finite number of trucks and drivers.
In order for retailers to keep pace with the demand they will need to increase their efficiencies for order processing. This is where the expertise of a 3PL can add value. Contact our experts at Land-Link Traffic Systems for a complimentary review of your operations. Decades of professional experience coupled with the latest technology can provide retailers the edge they will need to meet fulfillment demand.