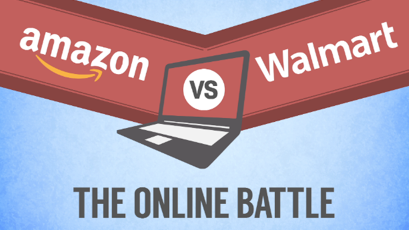 Walmart is on the offensive. It really has little choice but to go at Amazon full throttle with an in your face attitude. It's risky but the alternative is to be satisfied with a distant second place to Amazon in the online marketplace - a marketplace wherein lies most of the future growth for retailers.
As Sam Walton said, "opportunity often lies in the opposite direction." Walmart's cornerstone in their online offensive is the purchase of Jet.com; an online retailer which has struggled to make a profit in its first 2 years of business. This certainly makes the $3.3 billion purchase price so intriguing. The management board of Jet.com has been tasked to lessen the market share gap for online ecommerce sales between Walmart and Amazon. The assignment; "Repurpose Walmart's historically underachieving internet operation to compete in the age of Amazon. Amazon has run away with it and Walmart has not executed well," says Scot Wingo, chairman of Channel Advisor Corp., which advises brands and merchants on how to sell online. Walmart has a lot riding on the founder of Jet.com and the man in charge of the show, Marc Lore. Last year, Lore received $244 million in pay, 10 times that of his boss, Doug McMillon, Walmart's CEO. His project could determine the future of Sam Walton's legacy and the eventual success of Walmart.com. It will also determine whether Lore is good at building profitable e-commerce sites or just selling unprofitable ones to his competitors for piles of money.
A Bit of History
Since the beginning of the e-commerce era, Walmart has repeatedly fallen short in its' efforts to cultivate a successful online presence. In 2000, it spun out its website as a separate company and raised capital from the Silicon Valley venture firm Accel Partners for future funding. Eighteen months later, after the dot-com crash, Walmart bought the operation back for an undisclosed sum. The move didn't accomplish much: Sales were disappointing—$25 million in 2000, with $100 million in clothes and other inventory left over after the holidays, according to a former senior Walmart.com executive. "We had built fulfillment for apparel but all of the demand came from electronics," he says. The failure was a combination of poor planning, inaccurate consumer demand preference estimates and bad timing.
Walmart showed flashes of commitment to the internet later in the decade, engaging in a holiday price war on media products with Amazon in 2009 and making an unsuccessful run at Quidsi in 2010. The next year, then-CEO Mike Duke spent $300 million to acquire a relatively unknow search engine, Kosmix. Walmart's acquisition strategy appears just as fragmented as that of their online market penetration.
When it Comes to DC's Location is Everything
The Walmart fulfillment center in Bethlehem, PA, is a marvel of 21st century retail. It's an vast 1.2 million square feet, with products stacked 40 feet high on metal shelves that extend in both directions. The Bethlehem facility along with several more strategically placed mega distribution centers are key to Walmart's renewed bid for relevance. They allow the company to ship its most popular products anywhere in the country within two days by ground or one day by air, down from a week five years ago. These are table stakes in the pricey poker game that is contemporary e-commerce. Massive selection and the convenience of two-day delivery comprises the basic playbook strategy of ecommerce today.
While all of this is going on at Walmart, its primary rival isn't standing still. An estimated half of all U.S. households subscribe to Amazon Prime, according to a report from Consumer Intelligence Research Partners. Amazon accounts for more than $5 out of every $10 spent on online purchases, says Macquarie Research. Its market value, buoyed by its cloud-computing business, is now about double Walmart's. In Seattle, Amazon is also trying out concepts, such as the Amazon Go store, where customers are automatically charged for items they pick from shelves without going through a checkout line and a hybrid supermarket-and-pickup center for people who order groceries online. It may just come down to who can offer the most convenience and best customer service for the lowest price.
To stay informed on these and other Logistics topics please subscribe to our blog http://www.Land-Link.com/blog.