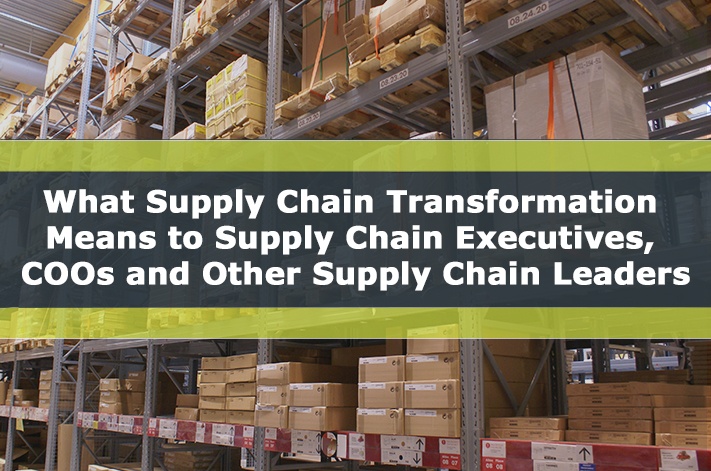 In response to the dramatic changes in the business landscape over the past few years, many companies are launching business transformation programs to drive sweeping changes in their supply chain processes. Some examples of these changes are exploring new sourcing networks, establishing collaborative forecasting processes, optimizing networks and inventories, focusing on private-label products, and applying customer and supply chain segmentation to reduce complexity and improve margins.
In all different industries, from the relatively slow moving ones such as utilities and cement, to the rapidly changing businesses such as high-tech and retail, lean and agile supply chain processes have become critical in achieving a competitive advantage.
Supply chain transformation is the latest buzz phrase in the Logistics industry. We thought we would supply some detail to what the phrase is really trying to define. Transformation means mobilizing and coordinating people, process, partners and technologies to dramatically improve supply chain performance. The following considerations can help supply chain executives, COOs and other supply chain leaders evaluate their organizations' readiness to start a project to transform their supply chains.
Strategy alignment: Define and align the supply chain strategy with the overall corporate strategy.
Supply chain segmentation: Segment the supply chain to determine what channels and customers are profitable, and what it costs to serve each channel and customer.
Design and configuration: Design and configure the supply chain to deliver maximum business benefits.
Talent development: Identify and institute the skills, talent and innovations required to reach the next level of supply chain performance.
Collaborative culture: Evolve from adversarial to collaborative relationships with partners, including distributors, third-party logistics and contract manufacturers, and governmental and nongovernmental organizations.
Conduct Your Supply Chain Transformation Initiative Using This Structured Approach
Here are some industry best practices that supply chain leaders might follow when initiating an effort to transform their supply chains. These phases may vary, depending on the organization, its requirements, and its supply chain management process and organizational maturity.
Strategize and Plan: Draft a charter to gain agreement on the mandate behind the initiative, in alignment with business goals, particularly in end-to-end processes from the customer to suppliers. Establish resources, budget and governance systems.
Architect Solution: Define the architecture, technology and standards. Model business requirements and detail specifications for solution delivery. Create and communicate a project implementation plan. Define phases, interdependencies, process details and performance metrics.
Select Solution: Set requirements and issue RFPs. Analyze market intelligence. Evaluate vendor/service provider options. Choose vendors/service providers. Negotiate service-level agreements and contracts.
Build: Design, staff, and manage the initiative. Create and execute prototypes or pilot projects. Define organizational and governance structures. Maintain contact with and seek feedback from key business users.
Operate and Evolve: Operate and manage the implementation. Revise in response to feedback, risks and changing business requirements. Measure performance. Monitor use and compliance. Develop skills and define best practices. Refine governance processes.
Among all, the biggest challenge to change is implementation. Some of the best ideas simply remain on the drawing board because no one has the time, expertise or resources to initiate the program. This is why the assistance of a qualified 3PL can be so integral in your organizations competitive initiatives.
At Land Link Traffic Systems we have the expertise, personnel and technology to move your ideas from the drawing board to implantation. Please reach out to us to get your project moving in 2017.