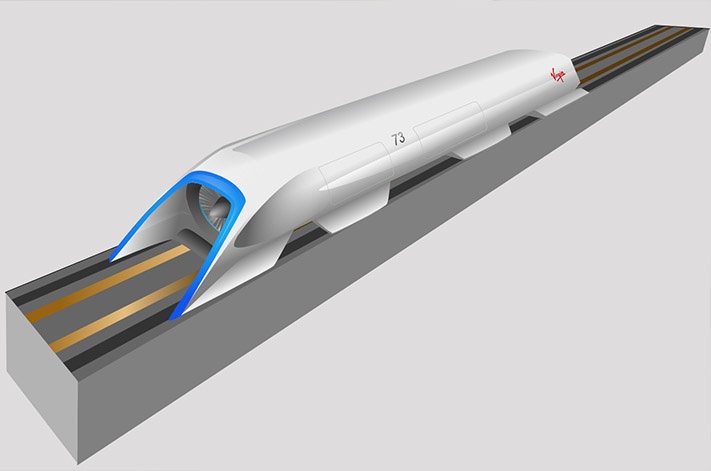 In February, we blogged about the Hyperloop. The Hyperloop is a conceptual train-like design to provide ultra-high-speed transportation for passengers and freight. The concept is the brainchild of Elon Musk, and the fuselage would travel inside a pressurized tube on a cushion of air. Hyperloop technology is fast-tracking into the freight sector. Hyperloop One Inc., is one of two companies racing to build the futuristic speed-of-sound transportation technology.
Hyperloop One and DP World will reportedly work together to study the viability of using Hyperloop technology to unload ocean container cargo at the Jebel Ali port in Dubai. Jebel Ali is one of the busiest and most productive ports in the world, with a handling capacity of 18 million TEUs. The experiment is intended to explore how Hyperloop technology could help move cargo quickly, safely and reliably from ships docked at Jebel Ali Port to a new container depot, 29 kilometers inland.
Hyperloop Capabilities
A dedicated Hyperloop tube with pods cycling through several times a minute can help DP World free up valuable space on the quay side and relieve Dubai's roads of congestion. As an all-electric, emission-free technology, a Hyperloop cargo off loader would also eliminate a great deal of carbon emissions and other pollutants.
Inland container ports, also known as dry ports, are very popular in the logistics business. Chicago and Kansas City were originally inland ports. Developers build them where land is cheap and plentiful, or along navigable rivers, and seek to connect them to seaports by rail or barge. Manufacturers like them as well, since they too can take advantage of lower land and development costs by setting up their operations nearby. Hyperloop could unlock the benefits of inland dry ports while offering greater reliability, capacity, and speed than rail.
A Hyperloop tube could tunnel underground or fit within existing rights of way, minimizing the impact on a dense metropolis. An even bolder solution would include Hyperloop tubes submerged under water to connect terminals to inland destinations going under the water rather than over it. Hyperloop One's deal with DP World is its fifth feasibility study to date and its first in the Gulf region. Other studies are underway in Finland and Sweden, Russia, Switzerland, and the United States.
The one in the U.S. is a similar cargo study being done, in partnership with design and engineering firm AECOM, to use Hyperloop technology to offload containers from the Ports of Los Angeles and Long Beach. The feasibility of Hyperloop transportation services beyond the port application is unclear. Given the significant efficiency differences between the hyper loop and today's railway locomotion technology a strong case can be made for the Hyperloop to eventually replace today's locomotive technology utilizing existing track routes.
Looking Towards the Future
Even in an uncertain future, Hyperloop engineering teams continue to refine and improve the electric motor demonstrated earlier this year and have begun assembly work on DevLoop, the full-system platform that will begin preliminary runs later this year and early next year in advance of the "Kitty Hawk moment," when the first Hyperloop vehicle levitates at high speed through a near-vacuum tube. The next mode of transportation may be right around the corner.