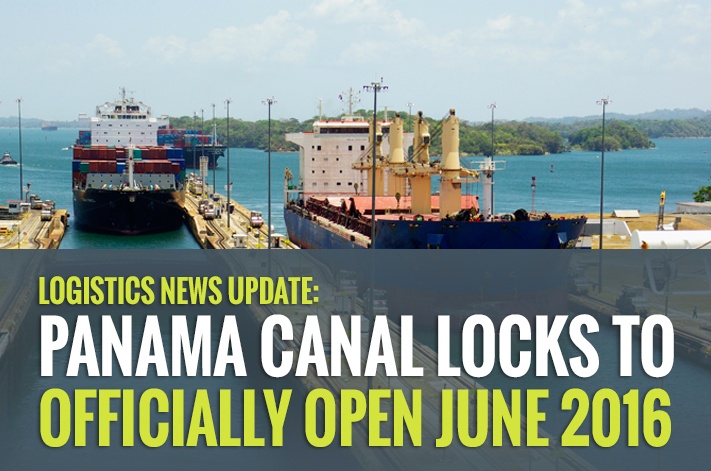 The Panama Canal Authority announced its new locks are going to be opened in June 2016, nearly 2 years beyond the original target date. The massive, multibillion-dollar project had originally been scheduled to end in October 2014 but has been successively pushed back. It has suffered construction and labor problems, legal issues and the discovery of fissures in one of the widened locks.
Ocean carriers have been anticipating the opening of the new locks. The expanded length will be 1,400 feet long, 140 feet wide and 60 feet deep, compared with the 1,000-by-110-by-40-foot dimensions of the three sets of original locks. The new locks will accommodate vessels with capacities of up to 14,000 twenty-foot-equivalent units, depending on the vessel design.
The current Panamax size is 4,500-5,000 TEUs. Operators of other ships, including pure car and truck carriers, bulk carriers and tankers, also will be able to take advantage of the new locks' larger dimensions. The expansion may shift international trade routes, allowing ships to reach Asia from the U.S. Gulf Coast more than two weeks faster than they would going east through the Suez Canal.
Carriers have been planning route realignments that the new canal will make possible, but canal officials and most analysts expect the new routings to be implemented gradually over several months after the new locks open.
Bigger Canal Means Bigger Ships
The Panama Canal expansion project has spawned a new era of ship design. The original Panamax design is the mid-sized cargo ship that is capable of passing through the original lock chambers of the Panama Canal which are 1,050 ft (320.04 m) in length, 110 ft (33.53 m) in width, and 41.2 ft (12.56 m) in depth. These limits have influenced the ship building companies to build Panamax vessels strictly in accordance with the dimensions of the lock chambers and the height of the Bridge of the Americas. Panamax ships are in operation since the opening of the Panama Canal in 1914.
The new locks have spawned the design of New Panamax ships with a cargo capacity of up to 13,000 TEU. New Panamax ships will have a dimension of 366 m (1,200 ft.) in length, 49 m t (160.7 ft) in width and 15.2 m (49.9 ft) in depth. They have been designed strictly in accordance with the dimensions of new locks at the Panama Canal. Several ship-manufacturing companies across the world are already following the new parameters for container ships to match the dimensions of New Panamax. They are also getting large orders for the New Panamax vessels from shipping companies.
Read more about the Panama Canal:
Transportation Services
Land-Link has been providing its clients with effective transportation and logistics solutions since 1978. We understand that the proper balance of service and cost is essential to the execution of any successful logistics program.