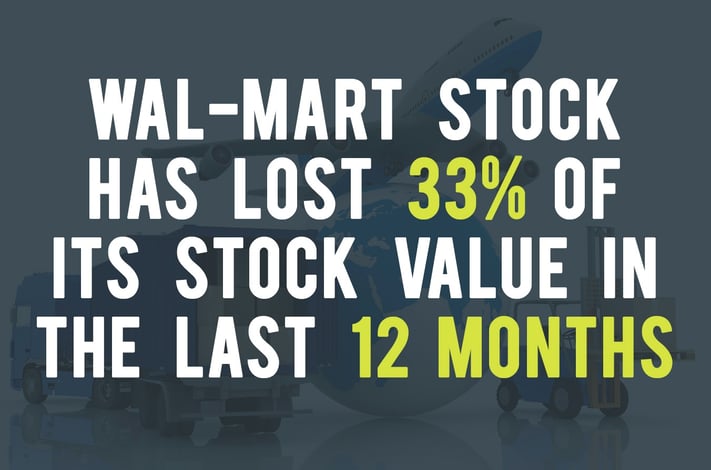 Wal-Mart's business formula is essentially:
They keep their internal expenses very low.
This enables them to set the prices of products as low as possible.
Customers buy more as a result.
This model has worked for the retail behemoth for years, but is now increasingly becoming more difficult to maintain. Employee demands for higher wages and pressure by Amazon are the main causes of Wal-Mart's market and financial decline. Wal-Mart stock has lost 33% of its' stock value in the last 12 months.
Shifting Landscape
Being the world's largest retailer is giving Wal-Mart a pain in the wallet. The giant was known for aggressively building stores across the U.S. to gain economies of scale and put smaller companies out of business. Now, Wal-Mart is slowing its expansion and alternatively concentrating on running existing stores more efficiently.
Wal-Mart recently announced plans to close 154 stores across the U.S. 102 of the closings include the smaller "Wal-Mart Express" stores; they are too small to carry a large assortment of fresh groceries and prepared food. Both merchandise categories have become integral components of Wal-Mart's larger supercenter and Neighborhood Market concepts. The closings will happen fast – most locations will close their doors by the end of this month. An additional 155 stores will be closed in South America. The financial impact of the closures is estimated to total approximately 20 cents to 22 cents per share.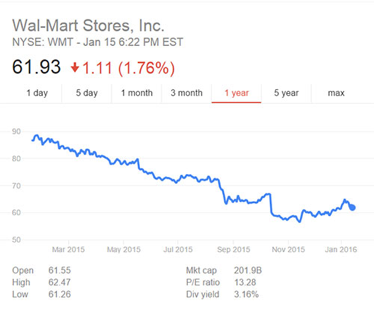 The store closures are the byproduct of such change. By shedding stores, Wal-Mart will be able to save money on expenses such as hourly wages, health care, transportation and build-out costs for e-commerce. All of these line items continue to feel upward pressure. Wal-Mart said at its annual investor day that higher wages for associates will dent profits by about $1.5 billion in the 2017 fiscal year, following a $1.2 billion hit this fiscal year.
Wall Street Views Wal-Mart Position As A "Do Or Die"
A major issue is Amazon. When Amazon raised the price of its Prime offering and didn't have anyone blink, that was a sign that the convenience and low price of Amazon trumps the convenience and low price of Wal-Mart. Competing on price and on slightly better customer service just might not work.
Wal-Mart also has a serious PR problem to deal with as well. Notoriously known for offering state minimum wages and bare bones medical coverage for their employees; they are constantly being beaten up on social media by employees as well as shoppers. Wal-Mart has a similar notoriety with its suppliers. They have used their purchasing power to reach concessions from suppliers and vendors. After years of meeting demands for ever cheaper prices, many Wal-Mart Stores Inc. suppliers are just saying 'no' to new margin-squeezing storage fees and a payment schedule that could delay for months how quickly some are paid. Vendors are also saying 'no.' Consequently, logistics providers are tuning down shipments for Wal-Mart due to anemic rates!
Stay tuned for more updates! For more logistics news, click the button below.