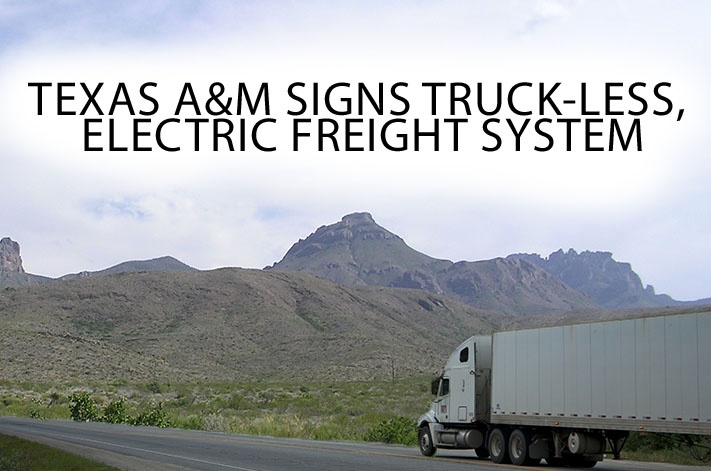 Texas is among the busiest states for commercial truck transportation in the U.S. The congestion, inbound traffic volumes and security concerns from its southern neighbor all contribute to its high volume of truck transportation. The volume of cargo traffic and private vehicle traffic in many areas has grown faster than the public road infrastructure. Texas has seven of the top 25 freight bottlenecks in the nation, located in Austin, Dallas, Fort Worth and Houston. Truck traffic over congested public roads contributes to major economic and quality-of-life challenges. Engineers at Texas A&M have designed a possible solution to these traffic issues.
The Freight Shuttle System (FSS)
Freight Shuttle transporters are driverless electric vehicles engineered to operate as independent units. They are powered by linear induction motors with steel-wheel technology that reduces friction and results in the exceptionally efficient use of electric power. The Freight Shuttle System was conceived to resolve freight transportation's most pressing needs: a dedicated system suitable for high-volume traffic between two points, located less than 500 miles apart, and one that ideally segregates freight from passenger traffic.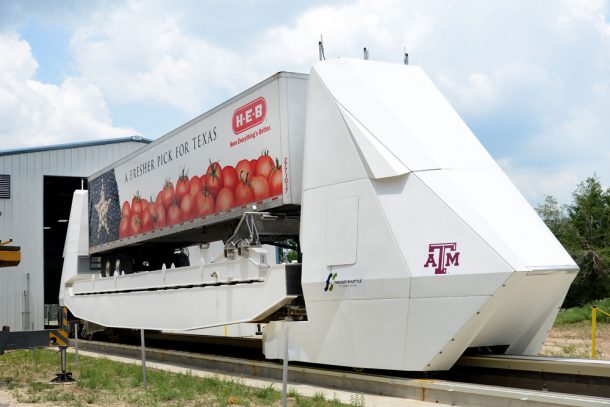 The concept is similar to the Hyperloop Train we blogged about in September. While the Hyperloop train rides on a cushion of compressed air inside a tube, the Freight Shuttle System is electric powered. It is designed to travel on rail systems elevated above existing roadways. The FSS transports 53- and 54-foot truck trailers and up to 45-foot ocean containers that would normally move by truck, taking them off congested roadways.
Increased safety is an added benefit of the FSS design. Hundreds of fatalities every year involve semi trucks. Border congestion would also be significantly eased. The FSS supports a scanning-motion technology to promote secure trade at border crossings. Scanning stations will allow for 100 percent inspection of each FSS vehicle using high-energy scanning equipment. Click here to view an animation of the FSS.
The Technology
The FSS is a unique transportation mode because i uses efficient, linear-induction motors. FSS transporters are autonomous, thereby not requiring an onboard driver. Instead, they have multiple redundant safety measures incorporated. Each transporter has its own set of two motors and travels independently of other transporter. Because these motors are electrically powered, the FSS will not emit any pollutants. At cruise speed, which can be 65 mph for some systems, transporters use about one third the energy required by diesel trucks. GPS and wireless communications, in conjunction with a fiber-optic backbone, will provide a constant flow of information on shipment status, position and operating conditions to help ensure maximum safety and efficiency and on-time delivery.
Still a few years from implementation
The prototype FSS transporter and an initial section of guide way are complete and in pilot testing at the 34-acre Freight Shuttle Test and Evaluation Site in Bryan, Texas. The FSS development team is in the process of design and development planning for the building of actual systems tailored to the needs of specific economic communities. FSI is creating a vehicle design tailored to containers and seaports and is working on plans to manufacture the first commercial fleet of vehicles. Freight Shuttle transporters have the potential to optimize cargo movement efficiency 24 hours a day.
For more logistics and transportation news, click the button below.