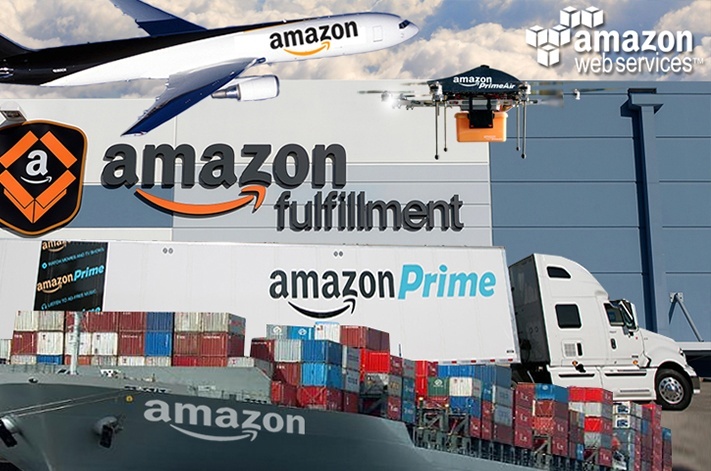 Image source: http://www.supplychain247.com/images/article/amazon_logistics_services_the_future_of_logistics_wide_image.jpg
Amazon has been reshaping Logistics for many years. They are now poised to leverage today's technology to redefine the supply chain process. Logistics providers everywhere would be well advised to pay attention.
Triggered by the drive to please customers or increase market share, Amazon's development process follows a clear structure:
Identify inefficiencies.
Develop a technological solution.
Scale the solution into a platform.
Offer the platform as a novel solution for third-party businesses.
For example, Amazon first created an efficient in-house computing cloud for their own IT, expanding its in-house before offering it to others in the form of Amazon Web Services. This same pattern has repeated in other sectors, including payments, e-commerce checkout and retail. Crucially, competitors generally do not see the change coming. When the term "cloud computing" was first used in 1996, IBM and Microsoft certainly didn't anticipate that their biggest competitor would be a bookstore. Today literally all software programming is accessed through a computing cloud.
Amazon has continued to set the pace in supply chain technology applications. The 2014 courier strike may well have been the catalyst for Amazons boldest move. Frustrated by a lack of control over delivery and tempted by a 4.2 billion dollar "Prime " delivery market, Amazon began making moves to build their own asset-based delivery infrastructure. In December 2015, The Seattle Times reported Amazon was in talks to lease an air fleet, while Amazon trucks started appearing on the road. For the first time, the iconic Amazon packages were delivered by Amazon employees, while Amazon also launched a crowdsourced delivery service.
Implications for the Logistics Industry
As most anyone in the freight transportation business will tell you, arranging for transportation services is a time-consuming process providing shipper, consignee, bill to and general shipment details. All this time translates into dollars. To be successful Amazon will have to reinvent the process. A daunting task to be sure but in an industry with plenty of room efficiency enhancements. If Amazon "Fulfillment" is successful in figuring out the recipe for a lean and profitable supply chain, would they want to keep it to themselves? The answer is a resounding no. Some estimates of global freight market are in the range of $300–$350 billion. If Amazon can indeed come up with a better mouse trap design there would be a large market hungry for innovation.
As an industry, logistics is ripe for technology-driven disruption. And no company is better at leveraging technology to broaden margins than Amazon. Logistics services companies should be paying close attention. Unless the logistics companies can keep pace with the technological innovation that Amazon is likely to deploy, Amazon Logistics Services may emerge as a new platform in the next decade, unseating existing freight leaders.