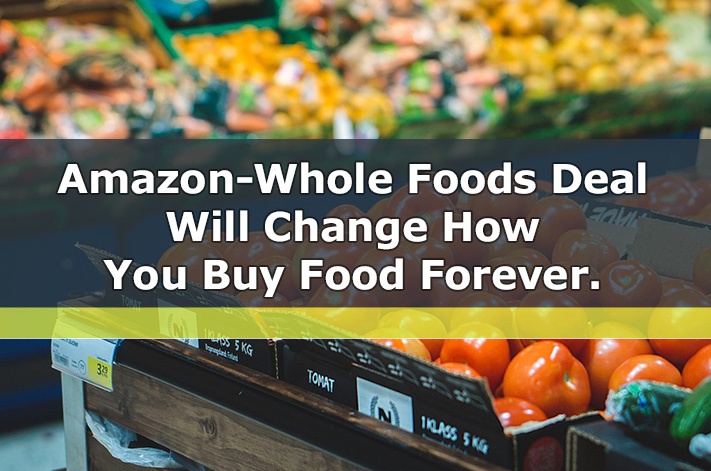 Watch out Walmart, Target, Blue Apron, Grub Hub and any grocery chain entering the food delivery business. The great white shark of delivery services will soon be in the water. Amazon.com's $13.7 billion purchase of Whole Foods instantly makes it a major player in the U.S. grocery industry and that leaves a lot for shoppers, retailers and other companies involved in the industry to take notice. This deal marks the beginning of an era where the e-commerce giant pushes to enter the brick-and-mortar world, marking its next grocery-related milestone after it announced plans to launch Amazon Go, a checkout-free grocery store.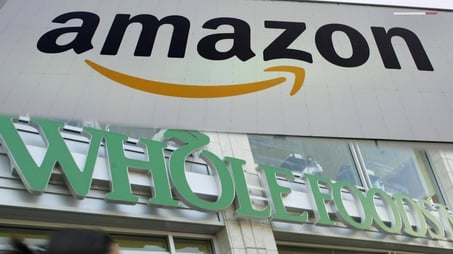 Among the biggest challenges in the grocery business is the very thin margins. They all depend upon volume to make profits. This move by Amazon with their affinity to operate at maximum efficiency is a real threat to any major grocery retailer. A single bright side is the price points of most Whole Foods items.
Image source: http://money.cnn.com/2017/06/16/investing/amazon-buying-whole-foods/index.html
Amazon-Whole Foods deal could mean a brave new world of grocery retail.
This purchase will offer significant changes in the way we shop. Likely options will be one-click ordering and access to the entire Whole Foods store from your Smartphone, One click check out, or even drone delivery. The options are endless, but one thing is almost certain. Whole Foods is about to become bigger and better. The ease of ordering and delivery is likely to increase the appeal of the Whole Foods line to new customers. Amazon's seamless ordering protocol is likely to appeal most to millennials over competitors like Wal-Mart or Target. It would seem that price has taken a back seat to service with the under 30 crowd.
The broader retail industry's tailspin has only deepened with Amazon taking a big share of the blame. Once stalwarts of the industry, Sears, J.C. Penney and Macy's are closing hundreds of stores. Mall favorites like The Limited and Gymboree have filed for bankruptcy protection. Now, traditional grocers could face a similar fate.
Mainstream grocers will need to take a hard look at themselves.
Kroger's stock dropped, Thursday, after the company lowered its outlook for annual profit and tanked again after the Amazon-Whole Foods deal was announced. Kroger's shares lost 28% for the week. Stocks of other food sellers tanked, too.
"We're going to see polarization here. Some players, like Wegmans and Publix, are strongly differentiated. I don't think they'll lose because of that. The ones that are not so strong and differentiated are more likely to fall victim to the price squeeze and you'll see the shake-out. Other chains will look to buy these chains to consolidate," said Neil Saunders, managing director of GlobalData Retail, pointing to Buy Low Market in California and Ingles in the South as chains that might struggle to survive.
The big winners in the early stages should be consumers.
With the competition soon to be white hot the initial winners should be consumers. Amazon will most likely be very aggressive with introductory pricing plans initially seeking to gain market share. Competitors will have little choice, but to follow suit. So, this might be a good time to try the Whole Foods line or at least experiment with home delivery.
For these topics and more please subscribe to our blog http://www.land-link.com/blog.