Cargo theft is the primary concern of shippers and logistics professionals over any national holiday weekend. Holiday weekends pose a higher threat because truckers will park their trucks, and warehouses will be shut for an extended period of time. Millions of dollars are lost, production schedules disrupted, and customers disappointed over the long holiday stretch.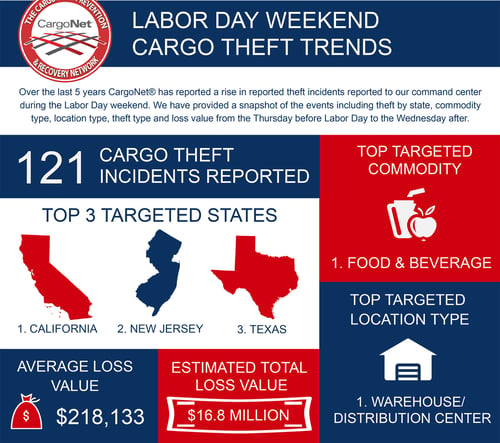 In the seven days preceding and following Labor Day 2012 to 2016 , 121 cargo thefts were recorded across the United States and Canada. Cargo theft events were highest in 2012, with 30 reported cargo thefts and gradually decreased each year to 16 reported events in 2016. In total, $16.8 million in cargo was stolen in this period, including a single $5.7 million shipment of high-end smartphones that were stolen in transit between Delaware and Washington in 2015. The average recorded event was worth $218,133. Electronics and household items were the most commonly stolen commodity in recent years, and for Labor Day Weekend 2016, electronics thefts spiked when cargo thieves stole five truckloads of high value consumer electronics like laptops, televisions, and audio equipment.
Suggested Security Protocols
Targeted commodities of Labor Day crooks are tobacco, pharmaceuticals, personal care products, home and garden supplies, and electronics.
Cargo security experts say cargo thieves attempt to exploit cargo at rest. It suggests carriers and drivers confirm receivers' hours of operation for the holiday weekend and plan for secure parking locations in the event a shipment will have to stop for an extended period of time. Covert GPS tracking and active monitoring of high-value shipments are highly recommended.
Additional security protocols include:
Communication between drivers and shippers needs to be firmly established and regularly maintained during shipments over these periods. That communication should include driver(s) instruction as to what types of behavior are required and what is not permissible.
Truck stops, highway rest areas, and distribution centers are frequent targets for cargo thieves especially during holiday periods. For that reason, any location where cargo would either intentionally (or unintentionally) stop — even for brief periods — should be as secure as possible.
Things to consider when selecting a secure area/lot are: controlled access, adequate lighting, congestion, any type of either personal or video surveillance, how long the conveyance will be left unattended, as well as past intelligence of localized cargo theft activity.
If a cargo must be left unattended for any period of time it should be made as secure as possible. Theft-resistant locking/sealing mechanisms for tractors, trailers and cargo compartments; disabling technology for the vehicle's power units or trailer movements; parking vehicles and/or cargo compartments in a fashion which make access as difficult as possible – should be considered.
Any tracking technology, such as GPS monitoring, should be used to its fullest extent possible.
Security policies and procedures are a paramount concern for today's logistics professionals. Not only to guard against pilferage but to ensure the integrity of a client's brand. Cargo which is stolen will eventually find its way to consumers but on the way may be contaminated or altered potentially causing harm to end users. It is incumbent on freight carriers and shippers to maintain a strict security policy to protect against these threats. Sadly, it's the world we live in today. For guidance on implementing security protocols in your organization, please contact us today.