Transportation capacity remains on a downward trajectory while prices and utilization are increasing at a steady rate. A heavy flow of inbound containers, as providers try to catch up on depleted inventories and consumers remain active, is driving the demand side. Delays at the ports and on the rails, and a lack of equipment and trucks, is keeping capacity stretched and prices high.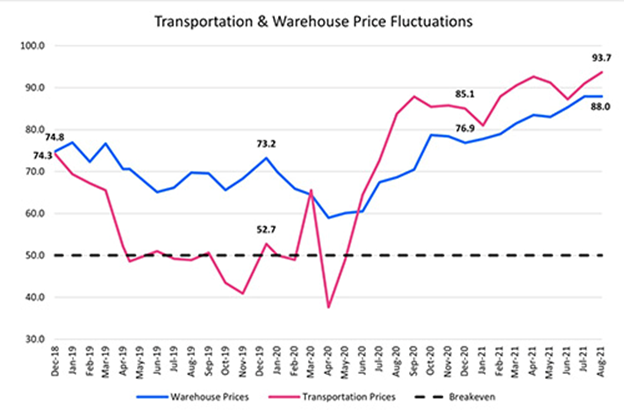 Looking Ahead
As global demand improves and continues to support industrial production, supply chain problems are likely to continue, making it difficult and expensive for firms to get hold of industrial material even as more countries recover from the pandemic, particularly in a policy environment increasingly geared towards reshoring and domestic production. During the pandemic, world trade in goods has benefited from the global recovery in retail sales and industrial production, while other sectors remain much harder-hit by lockdowns and uncertainty, so much so that global trade's recovery has outpaced global GDP. Ocean freight, normally responsible for the bulk of world goods trade, has had to compensate for reductions in air freight capacity while passenger travel remains restricted. Trade volumes have bounced back after lockdowns at ports, as well as the blockage of the Suez canal, but supply chain disruptions have accumulated and worsened. With some shipments taking much longer to be delivered, and containers becoming displaced, each setback is causing shortages of commodity and price increases to become more acute. Even as demand for goods overall has remained strong, the stop-start nature of different recoveries has disrupted supply chains at different points, displacing empty containers and becoming one of the pinch points in international trade.
Challenges To Continue Into 2022
With material shortages to continue into 2022 and container prices possibly remaining elevated into 2023, the supply of material is likely to be one of the major challenges for industrial production. Even as some frictions ease as the recovery progresses, trade barriers have risen.
Add to that a policy environment increasingly geared towards reshoring and domestic production, and it becomes clear that while global demand will continue to support industrial production globally, firms face a difficult and more costly environment to get the materials they need for production.
Logistics Planning For 2022
It's been a highly challenging and disruptive year as the supply chain sector has been faced with an increased number of challenges, including demand volatility, transportation obstacles and supplier shortages. We could all use al little help in this volatile environment, particularly from industry experts. Please consider reaching out to our experts at Land Link Traffic Systems. We will gladly review your supply chain challenges with you personally.
Stay Safe Everyone.
To stay up to date on these and other Logistics topics subscribe to our blog @ http://www.Land-Link.com/blog.
Author
Michael Gaughan
Technology Officer
Land Link Traffic Systems