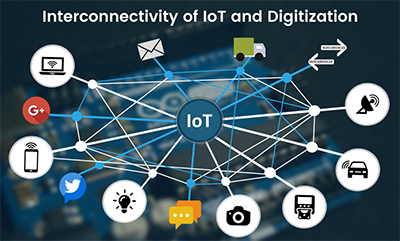 Our economies and our lives depend on the efficient movement of goods; a movement that is underpinned by complex transport and logistics chains. But, while delivering goods from producer to end user, transport and logistics systems are under increasing pressure to deliver greater efficiency, more sustainability, and improved cost-effectiveness. Connectivity and IOT ( The Internet of Things ) will be the key components to a competitive edge in the Logistics of tomorrow. The IOT, as you may recall from previous blogs, represents basically any piece of machinery involved in a supply chain. Implementing IOT technology will allow 3pls the ability to communicate directly with the hardware involved in the production and retrieve the necessary data directly rather than deal with personnel.

With a connected network, this type of data can be seamlessly retrieved by 3pls and disseminated to suppliers and providers. It is worthy to note that the decimation will likely be protected by blockchain technology for enhanced privacy and protection. Transport and logistics are facing the same challenges as other sectors – the need to increase efficiency, improve sustainability and lower costs. For transport and logistics, however, this is further compounded by the need to offer a better customer service in the face of growing customer expectations, and to ensure compliance with ever more stringent regulations. The improved connectivity that the project will deliver will enable the scalable, trusted and secure exchange of information. This, in turn, will improve the overall competitiveness of goods transport in the supply chain and make it more environmentally, economically and socially sustainable. Improved connectivity will also support cooperative ITS solutions, which will also improve logistics operations by generating real-time traffic information, allowing better tracking and tracing of goods. The ability to connect with machines globally and the IOT infrastructure in place to globally communicate pertinent logistics data to and from suppliers and providers, securely, will separate the players from the also-rans.

IoT, Smart Roads, And Predictive Analytics

Real-time monitoring of trucks, vehicles, and goods in transit via the IoT has been around, says Timothy Leonard, executive vice president of technology for TMW Systems, and is only getting more capable as the number and sophistication of sensors and IoT infrastructure improves.

According to Leonard, formerly a technology executive with General Motors, as sensors on trucks and trailers are becoming more numerous, they're getting smarter and more capable of monitoring different conditions. Additionally, governments in places such as Ohio with its Smart Mobility Corridor program are embedding fiber optic cable and sensors right into roads to create "smart roads" that can help pinpoint congestion or weather trends. As a result, there will be a richer data stream to draw on for predictive analytics. The onus will be on vendors to develop predictive analytics solutions that are adept at helping with specific transportation decisions. "With the advent of smart road networks and infrastructure, and smarter sensors in trucks, the evolution of what we can do is just getting better and faster for us," adds Leonard.

Mobile robotics change DCs

Digital supply chain management isn't all about the IoT and visibility into goods in transit—it will also involve mobile robotics at the DC level to reduce labor requirements and help DCs keep pace with e-commerce growth, says Dwight Klappich, a research vice president with Gartner.

"I believe we are going to see very rapid evolution toward the use of what Gartner calls smart automated guided vehicles, that are also known as autonomous mobile robots, within DCs," says Klappich. "They're going to have a dramatic effect on how you can operate a warehouse, and how you design and build warehouses."

Mobile robotics, contends Klappich, are more flexible than traditional automated materials handling systems that require extensive fixed infrastructure. Mobile robotics/smart AGVs that can carry or pull inventory to workstations—or function as smart, driverless lift trucks—would alleviate the labor needs at the DC level and allow for DC automation that's quicker to install and reconfigure.

"There has always been this tradeoff with traditional automation in that while it can lower operating costs over the long term, it tends to be costly to acquire and involves a long time to install, implement or change," says Klappich. "Where we are at now is that smart AGVs/robotics are beginning to break that traditional tradeoffs between efficiency and agility, and that situation is only going to get better as robotics improve and industry gains experience with them."

Blockchain Technology In The Supply Chain

The blockchain is a distributed database that holds records of digital data or events in a way that makes them tamper-resistant. While many users may access, inspect, or add to the data, they can't change or delete it. The original information stays put, leaving a permanent and public information trail, or chain, of transactions

If blockchain technology allows us to more securely and transparently track all types of transactions, imagine the possibilities it presents across the supply chain.

Every time a product changes hands, the transaction could be documented, creating a permanent history of a product, from manufacture to sale. This could dramatically reduce time delays, added costs, and human error that plague transactions today.