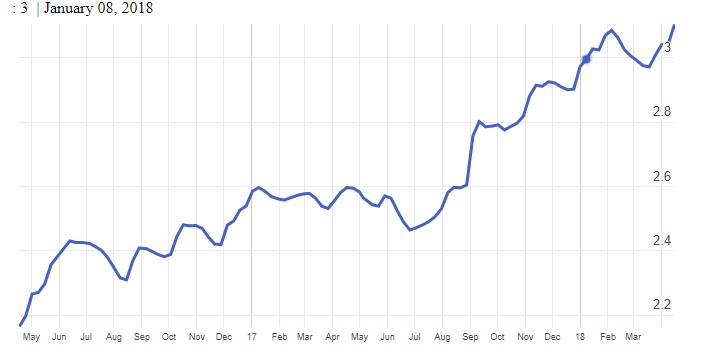 Just as the domestic manufacturing sector is enjoying a strong and steady growth a 6.1-cent jump in diesel fuel prices across the country, during the week ending April 16, have diesel at its highest point of 2018, and its highest since the beginning of 2015. The U.S.' average price for a gallon of on-highway diesel now stands at $3.104, the highest since the week ending Jan. 5, 2015, when diesel averaged out at $3.137. The increase was spurred by significant increases in all regions across the country, with the most significant increases being seen in the West Coast, which saw a 7-10 cent jump.
The Main Factors Affecting the Cost of Diesel Fuel
Several factors affect the cost of diesel, and similarly, gasoline at your local pump. The cost of crude is easily the main component in the equation accounting for about 56% of the U.S. retail on-highway diesel fuel prices from 2007 to 2016. Demand is naturally a major component of fuel costs. So, as we enjoy a robust manufacturing environment there is a down side. Diesel fuel use for transportation worldwide, especially in China, has increased world distillate demand as economies expand. Use of distillate fuel for electric power generation in many parts of the world also contributes to demand. Finally, it matters which part of the country you're shipping from. Generally, the farther from the Gulf Coast the more you'll pay for fuel. These components have one thing in common; we, as manufacturers or transportation providers cannot, short of relocating our manufacturing facilities, do anything about the price of fuel.
Managing the Effects of Rising Fuel Prices on my Transportation Budget
The lower fuel prices of the previous 24 months had helped to ease rising base freight costs in 2016 and 2017. The base rate increases are driven by higher wages for drivers due to the ongoing shortage combined with other rising costs such as compliance, maintenance and equipment upgrades outlined in the ELD mandate. For LTL carriers, these higher costs have resulted in average General Rate Increases of nearly 5 percent across the industry in each of the last two years.
The Cass Truckload Linehaul Index, which measures market fluctuations in per-mile truckload linehaul rates, independent of additional cost components such as fuel and accessorials, showed year-over-year increases going from 2.3% each month between July 2016 and July 2017 to 12.3%. Most analysts agree that generally, transportation prices are on the increase. So how, as logistics professionals, do we manage these costs.
While these recent diesel fuel increases are far from welcome news for shippers to be sure, they certainly pale when compared to what they had to deal with during the summer of 2008 when the average price per gallon for diesel was pushing $5 and oil was nearly $150 per barrel. The primary challenge encountered by supply chain and logistics professionals in terms of rising diesel fuel prices is uncertainty in terms of how much the price of a gallon of diesel will increase and for how long will high prices remain. We need to be forecasting 6, 12 & 18 months from now. International conditions in oil producing countries, uncertain international political policy adherence's by some nations and domestic oil demand make these forecasts difficult. The primary strategy for shippers to combat raising fuel costs is to concentrate on supply chain network optimization to manage the impact of rising diesel fuel and transportation costs. This is the only part of the supply chain process that logistics managers have some control over. It is critical to be at maximum efficiency in this area. It usually comes down to a choice between two management disciplines. Design a supply chain methodology in house that will meet your efficiency goals or seek the advice of a professional. I liken it to my own experience in my home improvement projects. I know my talent limitations. I know that I don't know enough about running electric or plumbing to either electrocute or drown myself. Those portions of the project are contracted to those who are the experts. Your supply chain is no different. What you're doing internally is probably very good but there is always room for improvement. Particularly given the technological advancements that are permeating the logistics process in 2018. To take full advantage of these advancements you must seek the counsel of those professionals who understand the technology and the applications to your supply chain methodology. To take the first step, invite the logistics professionals from Land Link Traffic Systems to review your current supply chain protocols.