President Biden introduced a $2 trillion plan on Wednesday to overhaul and upgrade the nation's infrastructure, calling it a transformational effort that could create the "most resilient and innovative economy in the world".
White House officials said the proposal's combination of spending and tax credits would translate into 20,000 miles of rebuilt roads, repairs to the 10 most economically important bridges in the country, the elimination of lead pipes from the nation's water supplies and a long list of other projects intended to create millions of jobs in the short run and strengthen American competitiveness in the long run.
An overwhelming majority of freight industry stakeholders applauded the White House's vision for transportation improvements. They point to recent reports, such as the American Society of Civil Engineers' bleak review of every infrastructure system, to justify dedicating federal funds for surface transportation projects. While there is broad support among Logistics professionals, there is concern over funding. The administration has committed to avoid any increases in transportation related taxes as a funding source. Given the staggering proposed spending it may be difficult to protect any existing tax revenue source from being affected.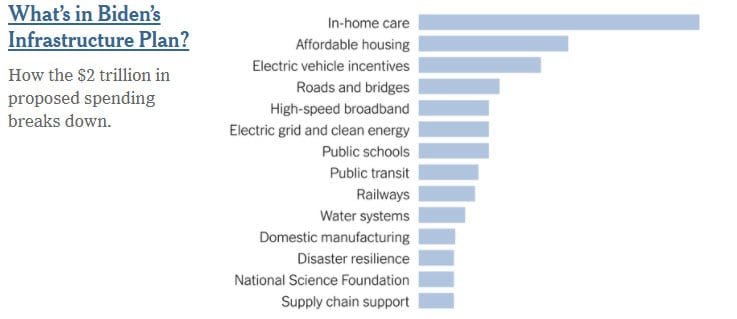 Support From The Private Sector
One of the most powerful lobbying groups in Washington, the U.S. Chamber of Commerce, has made infrastructure its top legislative priority. The group, which recently launched the "Build by the Fourth of July" campaign to push Congress to get infrastructure legislation done by that date, is optimistic even with a 50-50 Senate and a House chamber that's separated by only five votes.
"We can also stimulate the economy in a major way if we finally do the long overdue and broadly supported work of rebuilding our infrastructure," said U.S. Chamber CEO Tom Donohue at his State of American Business address on Jan. 12.
"It's the number one way to raise productivity, create jobs and drive up incomes in a hurry. Our lawmakers should enact a fiscally and environmentally responsible infrastructure package that focuses on urgent needs like roads and bridges. Let's find a way to pay for it, and let's get moving. This year, there can be no excuses for failure."
American Trucking Association Concerned About Funding Sources
The ATA is supportive of the bill's intentions but question the long-term funding sources. American Trucking Associations President and CEO Chris Spear issued the following statement regarding the Biden Administration's proposed infrastructure plan:
"We commend President Biden for leading on infrastructure and putting forward his Administration's vision to modernize and revitalize our nation's aging transportation networks. The health of our economy, strength of our supply chain and safety of the motoring public require us to make big, bold investments in our nation's roads and bridges, and this plan would steer much needed funding to critical projects along our National Highway System.
"We do not believe the Administration's funding proposal is politically tenable nor a reliable long-term solution to the shortfall facing the Highway Trust Fund. We also disagree with certain provisions – especially those related to labor – that are counterproductive to economic growth and will only serve as political poison pills. However, the President's broader plan is an important marker as Congress begins work on a surface transportation reauthorization bill. ATA recognizes this is the beginning of the legislative process, not the end.
"The trucking industry is committed to being a constructive partner throughout the legislative process and will continue to work with lawmakers on both sides of the aisle on a funding mechanism that is equitable, sustainable, user-based and can provide the foundation our economy needs over the long-term."
The bill is likely to get watered down in Congress. It has little to no support from the Republicans. Supporters are pushing to pass the bill early this summer. That may be a bold expectation. Funding and the massive amount of spending are deal killers to fiscally conservative members of Congress. Tax increases while the country is slowly recovering from a pandemic may be stifling to the robust resurrection of our economy. The bill is likely to ultimately pass. It will be interesting to see in what form.
Stay Safe Everyone.
To stay up to date on these and other Logistics topics subscribe to our blog @ http://www.Land-Link.com/blog.
Author
Michael Gaughan
Technology Officer
Land Link Traffic Systems