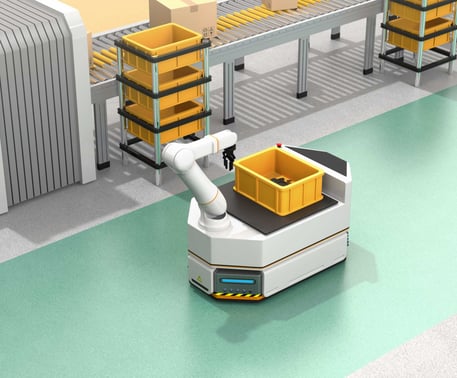 Those in the logistics business have recently speculated as to the direction of technology as it relates to warehousing and distribution advancements. The pace at which technology is advancing is exciting and a little frightening at the same time. The applications seem almost endless and keeping up on the technology can be a daunting task. Let's take a look at a few emerging technologies in warehouse automation.

Collaborative Robots Infiltrate Human Interaction

Collaborative robots may be described as round one of the robotic invasions into warehouse operations. In this round, robots are introduced to work alongside, and in collaboration with, humans in the day-to-day operations of the warehouse and distribution centers. Last summer, Forbes gave smart cobots, otherwise known as 'collaborative robots,' the illustrious title of "the future of work". It's a declaration that struck a chord with many, perhaps because the idea of warehouse associates working alongside robots is a simpler image to accept than a fully automated operation in which robots replace living, breathing human workers.

While cobots are quite flexible when it comes to application, the most talked about are the picking and packing variety currently being used by Amazon. Cobots are a no-brainer for large warehouses owned by multichannel retailers who have the extra capital to invest in the technology. These lightweight robots can be programmed quickly and controlled remotely, require just a few hours of set-up time, are often mobile, and, as far as we know, are safer than many of their stagnant, bolted-down competitors. Cobots will likely give way to the next generation of robot which will largely replace humans if not entirely.

On-Demand Warehousing

On-demand warehousing has been around for a while. Now it has become more sophisticated in both space design and geographical placement all based upon big data. Warehousing and DC centers need to be placed in strategic locations to meet the incredible delivery demands of today's consumers. Terabytes of data are being analyzed to decide exactly where to build strategic on-demand warehousing offering flexible utilization terms and easy highway access. Users want flexible warehouse space and supplier contracts that allow manufacturers to take advantage of the service as they scale and remove the services as they downsize. Third-party firms are offering up smart warehouses to manufacturers and suppliers at a fraction of the cost for the businesses to make the investments themselves. This means that even the most modest of startups can benefit from the use of the latest automated technologies, giving emerging businesses the opportunity to compete with the big guys on fulfillment time and accuracy.

Advanced Inventory Scanning Techniques

Fully automated warehouses have been a hot topic as of late. Trailblazing companies, like Aquifi, have already found a way to automate the task of bar code and label scanning, eliminating the need for handheld scanning tools and the people who operate them. This technology is accomplished through a sophisticated smart dimensioning and 3D identification function that processes a warehouse's items with more precision than ever before. It's big news for operations that take advantage of tried and true asset tagging and bar coding. While these materials will not be replaced, the very scanners, and the people who use them, may soon be deemed obsolete.

3D Printing

3D printing has been around for a few years now. It utilizes the 3rd dimension to not print, but build a particular item. Most 3D applications are designed for simple replacement parts made out of basic materials. As printers become more sophisticated, the applications have expanded. The sneaker industry is just one example of 3D printing technology application. In the old days, making a customized piece of footwear meant a disruption in the everyday processing of the manufacturer's movements and a much higher price tag for the customer. Ever since sneaker behemoth, Adidas, invested in 3D printing powerhouse Carbon, the once-fabled affordable customized sneaker is now a reality. In fact, consumers are so completely on board with this 3D-printed footwear option that Adidas is projected to sell millions of units in 2019 alone.

3D printing is also a powerful tool for plenty of other manufacturers, particularly those who are in the positions to take advantage of additive manufacturing according to the operation's precise needs. This is a big win for manufacturers, as it reduces material waste and shortens processing time in one fell swoop. As technology continues to evolve, so does the variety find in the world's smartest, most cutting-edge warehouses. Always pay attention to emerging automation technologies and the companies who are making them a reality. These are the very actors who will be dictating how we manufacture, distribute and consume goods in the years to come.

To stay up to date on these technology topics and more, subscribe to our blog.