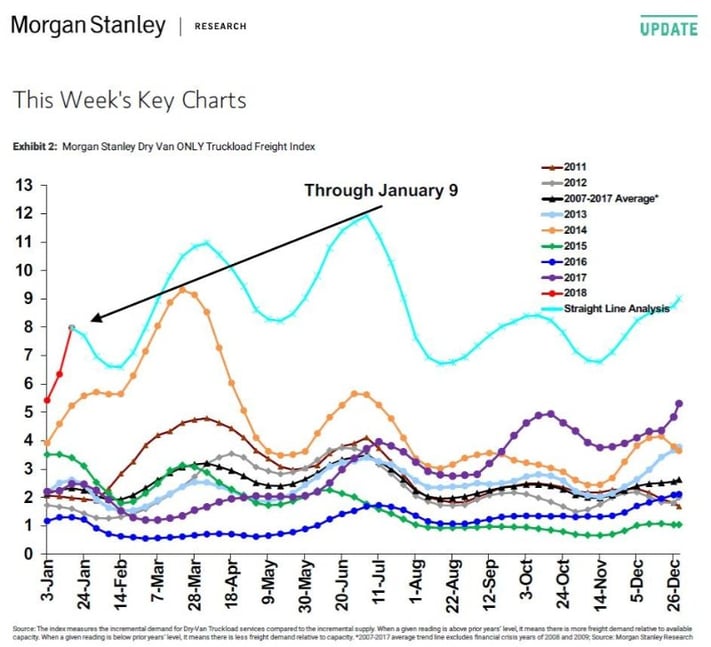 Coming off a strong 4th quarter in 2017 and riding a firm economic wave, demand for transportation services are expected to be strong in 2018. Preliminary estimates released by the government last week showed that the nation's output increased at an annual rate of 2.6 percent in the final quarter of 2017. Although that performance amounts to less than the optimistic 4 percent annual growth that President Trump has promised, it is further evidence along with a sinking jobless rate and surging consumer confidence, of the economy's resilience. All these positive trends along with tax breaks and incentives are expected to increase investment and production levels in the U.S. and increase the demand for transportation services.
Energy Costs on the Rise
Derik Andreoli, Ph.D., director of economic research and forecasting at Mercator International and the "Oil and Fuel" columnist at LM, observes that oil prices have been rising steadily since late June and will set the tone for 2018. "The fundamentals support a bullish outlook," says Andreoli. "Global demand looks to grow between 1.4 million barrels and 1.6 million barrels per day, while the oil surplus that hung-over producers at this time last year has disappeared—even though U.S. shale oil production grew by more than 900,000 barrels per day over the course of the year." Oil prices in 2018 and beyond will depend upon production levels by Saudi Arabia and Kuwait. Some analysts predict oil prices to reach $70 per barrel this year from its current cost of $61.
Equipment Costs on the Rise as Well
To meet the expected increases, in-demand carriers are adding equipment. A tractor in 2018 will cost between $120,000 and $140,000. A trailer will cost between $30,000 for a dry van and $70,00 for a refrigerated van. There are also the required logging and safety devices and financing which brings you close to quarter million dollars per fully equipped unit. With that in mind, it's easy to see how adding new equipment and replacing old units can easily run into millions of dollars. Naturally, this expense is added to the base freight rates. If you expect your freight to be picked up in what is expected to be a high demand environment for the foreseeable future, then prepare for higher rates.
It May Finally Be a Truckers Market in 2018
Everything points to it. The GDP, a strong economic outlook, tax incentives and willing investors. After years of getting bludgeoned about the head over rates, the truckers are poised to take revenge. How does 10.5 billion tons of freight move in the United States every year? According to the American Trucking Association (ATA), over 70% of all freight tonnage moves by truck and 2018 is gearing up to be good year for the industry. Factor in strong consumer growth, low unemployment figures and an upswing in manufacturing and you get increased demand for trucking capacity. However, greater demands on already tight inland truck capacity will mean that shippers will certainly feel the crunch.
What Can Shippers Do to Mitigate Rising Costs?
There are several strategies shippers can adopt to help minimize rate increases this year and, perhaps equally as important, ensure your shipments are picked up and delivered. The professionals at Land Link Traffic Systems can help your organization become a preferred shipper and ensure your freight is managed effectively. Visit us today http://www.Land-Link.com/contact-us to learn how.