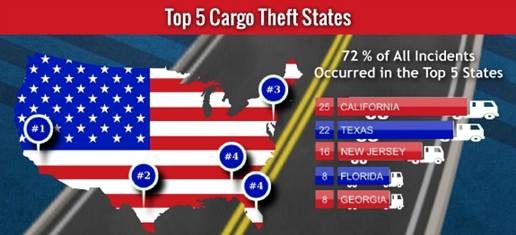 According to FreightWatch International, the risk of cargo theft incidents is much higher during the holiday season, and the upcoming Thanksgiving weekend should demand additional supply chain security measures for retailers looking to protect their precious holiday merchandise.

"Organized cargo theft rings are always active and recognize that holiday weekends can lead to shipments being unattended for prolonged periods of time," the firm noted. Since 2010, the transportation industry has experienced over three cargo theft incidents per day during the Thanksgiving holiday weekend, an increase of 27% over the annual average of 2.4 thefts per non-holiday day during that time period, according to the report. During this elevated threat period, the theft of electronic products, clothing, and shoes typically increase as cargo theft targets, and Home & Garden products supplant Food & Drinks as the products most stolen as part of cargo theft incidents over the holidays. Texas has experienced the highest amount of theft during that period. Data shows 59 percent of all thefts occurred in Texas, California, Florida, Georgia, and New Jersey. Thefts increased from Monday of Thanksgiving week before spiking on Wednesday, then decreasing to average levels of theft.

Steps Shippers Can Take to Protect Against Cargo Theft Over the Holiday

Thieves ramp up activity over long weekends knowing not only lots of cargo will sit idle for several days, but also the value of that cargo increases during the high-demand holiday season.

To combat the increased threat during the holiday shipping season, there are important steps to be taken by all parties in the supply chain.

* Be Aware of Hours of Operation. It is important for logistics and security professionals to confirm holiday hours of operation with shipping partners to mitigate any shipping delays. This will help to avoid unattended or parked freight
* Reach out to a Professional. Shippers should be picky with whom they decide to work. Hire only those carriers properly vetted by qualified 3pl's. Today's supply chain has very intricate operational and security elements not all carriers are suited for. At the very least you want video surveillance at shipper, consignee and in the truck. These are the things 3pl's provide. Reliable, professional and economic freight transportation.
* Move Out of Major Metropolitan Areas. If a trailer is loaded in a densely-populated city, where cargo theft is more common, advise the driver not to stop until they are 150 miles away from the point of origin, if possible. Whether in a large city or not, drivers should also avoid leaving their truck unattended.
* Use Multiple Locks. By using a combination of well-made door padlocks and a king pin, carriers can add an extra layer of security to shipments they haul.
* Use Technology. Make sure trucks are equipped with GPS-enabled tracking devices to directly pinpoint the shipment's location at all times. This will help to mitigate theft and help in recovery efforts.
* Develop Internal Security Procedures. Advise your team on what to look for, how to react quickly and safely, and who to contact should a cargo theft incident occur.

All of us at Land Link Traffic Services hope you have a safe and pleasant Thanksgiving holiday. For more information on how to maintain the safety and integrity of your supply chain please call us or visit www.Land-Link.com.