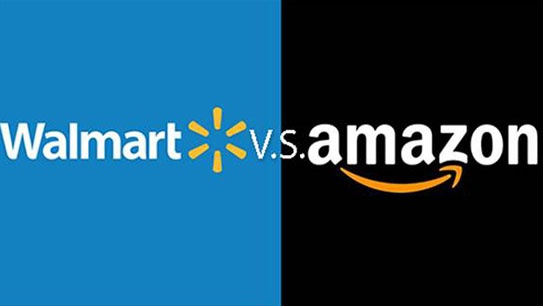 Wal-Mart Stores Inc. is telling its for-hire motor carriers that if they also haul goods for Amazon.com Inc., they will have to stop doing so in return for keeping Walmart business, a leading transport and logistics consultant said 2 weeks ago. According to Deutsche Bank's freight and logistics analyst Amit Mehrotra , these developments, "are likely to have significant implications for U.S. transportation companies, in our view, as Amazon and Walmart remain two of the largest users of truckload capacity.
For reference, Walmart represents about 14% of SWFT's operating revenues and traditional retail accounts for about half of WERN's total sales. So just how seriously are truckers to take this threat? The answer is debatable. Walmart is notoriously slow to pay and beats the trucker nearly unconscious on rates. And really, where is Walmart going to turn for the kind of capacity they require. There are few realistic options - one being going to the dark side and making a deal with Amazon. The rate cannot be any worse and payment cycle should be better. But then, Amazon is in the middle of creating their own Logistics division to move their own product.
The news, while suggestive perhaps of Walmart's growing desperation in its war with the retail juggernaut that is Amazon, has dramatic implications not only for the future of retail but for one of the most important US industries: trucking, and the number of people it employs. It will be interesting what the big truckers decide to do here.
They're Not Just Pressuring Truckers
The truckers are not the only ones being bullied. Walmart has reportedly sent requests for its tech partners to stop using Amazon's Web services. Walmart warned some tech companies that if they want Walmart's business, they can't run applications on Amazon's cloud platform some tech companies told The Wall Street Journal. Walmart uses some tech vendors' cloud apps that run on AWS, ( Amazaon Web Services) Walmart spokesman Dan Toporek told the Journal, though he declined to say which apps or how many. But Toporek did acknowledge instances where Walmart is pushing for AWS alternatives, the Journal reported Wednesday.
Some Bold Moves in the Walmart Strategy
Walmart, which has badly lagged Amazon in e-commerce growth, is moving aggressively to narrow the gap. It bought fast-growing e-tailer Jet.com Inc. last August for $3.3 billion and installed Jet's founder, Marc Lore, to run its e-commerce business. Earlier this month, Wal-Mart announced it had acquired Bonobos, an upscale men's retailer, for $310 million. Bonobos, along with Modcloth, a specialty women's apparel brand acquired in March by Walmart, will be overseen by Lore, who will market the clothing lines on Jet.com and the companies' own websites.
All Other Traditional Retailers Beware
It is a nearly unanimous consensus that Amazon and Walmart will have a dramatic affect on the future of retail. Location heavy retailers like Macy's and Staples are having to reconsider how to compete in what may soon be the new normal created by Amazon and to some degree, Walmart. A significant component of this new normal will be same and next day delivery and effortless online returns. 2-3 day delivery windows will likely be a thing of the past as will visiting the store location to return an item.