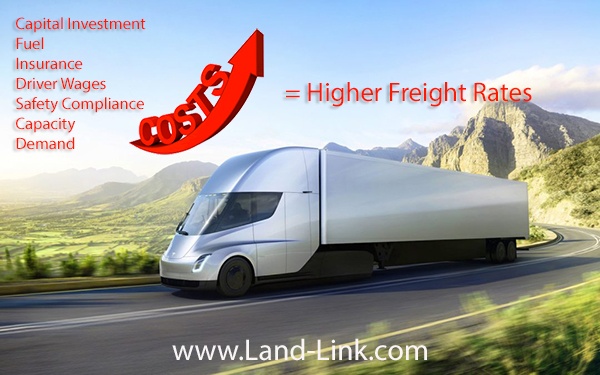 Buoyed by surging demand, LTL carriers are revving up for a strong 2018, warning that tightening capacity means sharply higher rates in what is anticipated to be possibly the highest demand market in a dozen years. It is a generally unanimous feeling among Logistics market analysts that the current environment of consistently steady industrial and retail demand, the tightening of overall trucking capacity throughout the industry, and LTL's special operational niche all are factors in creating the perfect storm of premium price points and strong demand.
Given the complexity and significant capital investment of even a regional LTL operation, let alone national coverage, there are few new entrants into the LTL market. The standard hub and spoke, brick and mortar blueprint of the LTL architecture makes it an expensive pool in which to swim. In recent years we saw some mergers and acquisitions to enhance existing operations. The most notable was the recent acquisition of Conway by XPO Logistics. To build an infrastructure even close to that would take years and a staggering amount of capital investment. Short of some small, regional startups, the major providers currently in place are what we're going to have to rely upon for the foreseeable future.
Even with higher demand prospects, LTL carriers are expecting a significant rise in operating costs, not just for drivers, but also for equipment and insurance. And while e-commerce demand is attractive for some LTL carriers, that additional business comes with sharply higher costs to reach remote locales with very little freight density in those markets. Add to the expense home or other non-dock delivery requirements and it's easy to see that LTL carriers will be able to service business that suits their operations and price that business which does not at a massive premium.
Rate Outlook
We've been talking about rates all year because it's a topic first and foremost on our clients' minds. When should we start planning for the increases and how much should we expect. LTL shippers should brace for rate increases of 5% or more this year, but that's only part of the bad news. It's not just the base rates that are rising, experts say. Dimensional pricing applications are commonplace in the industry now so be certain your packaging protocols not adding to the size, and ultimately the weight, of your finished pallets. Assessorial charges are also expected to increase with emphasis on detention, off hour and non-dock deliveries.
Managing the Cost of the Looming Environment
There are several techniques that companies can adopt to mitigate the rising costs of transportation and maximizing service. Companies will sometimes do this to leverage significant business levels against price. The reality is all carriers have preferable lanes and their pricing will reflect that very point. So, the best practice is to identify carriers which are the best fit for your specific pick and delivery locations. This can be done using some type "Least cost carrier selection process" Also, as previously mentioned, it's a good time to review your packaging protocols given the nearly industry wide adoption of dimensional pricing. And the cardinal sin for the coming years will undoubtedly be detention at either pickup or consignee locations. Carriers are taking a rigid stand on detention and charging for every minute beyond allowed loading and unloading time. So much so that regular offenders of detention rules may find themselves quickly dropped as a customer.
These are just a few suggestions to consider for your organization to help mitigate the looming transportation cost increases. If you're looking to reliably manage your LTL freight costs, the best way to go may well be hiring a third-party logistics company. A reliable 3PL is staffed with seasoned professionals who can execute all the above activities, manage your costs and maximize your customer service. Contact us today www.Land-Link.com for a free review of your current supply chain operation.