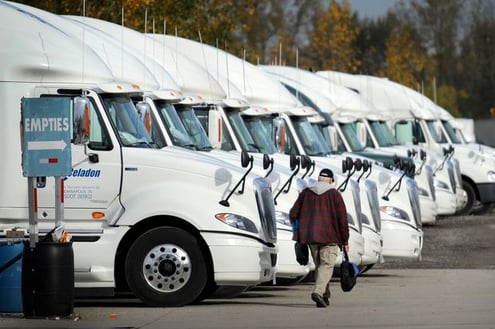 Celadon Transport, a division of the Celadon group filed for bankruptcy protection this week just days after two former officials were charged in an accounting fraud scheme. The Chapter 11 bankruptcy filing by the Indianapolis based Celadon Group left more than 3,000 drivers jobless and, in many cases, stranded drivers across the U.S. after their company gas cards were cancelled. Another 500 administrative jobs are expected to be eliminated through the bankruptcy.

Celadon's former president and chief operating officer, William Meek, 39, and its former chief financial officer, Bobby Lee Peavler, 40, were indicted on conspiracy and other charges. They knew the value of a substantial portion of Celadon's trucks had declined and that many trucks had serious mechanical issues that made them unattractive to drivers, according to the indictment.

Earlier this year, Celadon agreed to pay $42.2 million to settle securities fraud allegations stemming from falsely reporting profits and assets. The company's stock was trading at less than 3 cents a share on Monday, down from a 52-week high of $2.83 last April 11. Celadon said it was the largest provider of international truckload services in North America, and its bankruptcy filing means 3,300 trucks and 10,000 trailers will stop rolling.

Among the big companies that failed in 2019 are New England Motor Freight, which employed more than 1,400 drivers. HVH Transportation, Falcon Transport and LME have all shuttered operations this year, too. Part of the problem, according to Donald Broughton, principal and managing partner of data firm Broughton Capital, is that spot pricing has dropped, which is hurtful to smaller companies that operate in the spot market instead of the contract market. Spot prices refer to shipping prices as they currently exist.

Trade tariffs, as well as slowdowns in a variety of markets, including housing and auto, contributed to the drop, Broughton had told FOX Business. He predicted companies would continue to fail into 2020 because of the weak pricing environment.

Additional pain for the industry could be coming next year in the form of labor laws designed to protect contracted workers from being misclassified. In California, for example, starting in January a law will go into effect that will make it harder for companies to classify workers as contractors, which the California Trucking Association has said could put 70,000 owner-operators in the state out of work. The group has sued to prevent the law from taking effect.

New Jersey is considering similar presumption-of-employment status legislation, which has caused alarm among the state's trucking industry, as well.

What Shipper Can Do To Protect Shipments

The thousands of trucks stranded Celadon trucks likely have customers shipments onboard which will not be delivered anytime soon. Getting that freight delivered will likely cost significantly more than the original rate. The most damaging aspect of getting caught in a bankruptcy like this one is that thousands of customers supply chain has been significantly disrupted.

The best way to protect yourself against insolvent and even under achieving carriers is to vette them annually. Review financial statements, credit ratings, customer experiences on social media and verifiable on time percentages. Another option is to employ a 3rd party Logistics Firm to help with routing decisions. At Land Link Traffic Systems carrier vetting is a standard procedure. We take every precaution to route our customers freight with a financially healthy carrier with above average performance.