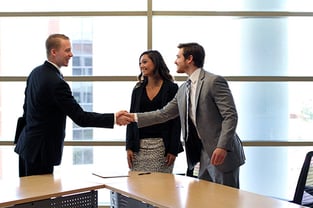 Today's consumers may be more demanding than ever. They know what they want, and moreover, they want it fast. Sometimes I wonder if they really need it that fast or is it simply the mindset of the new generation of consumer. In an extensive career in the expedited freight market I was surprised to find how many receivers were not in a hurry at all for the product that their suppliers spent triple the money to ship expedited. In fact, I rented a box truck and personally delivered a few skids to a major account after an unavoidable traffic accident sidelined the original truck. After a 5-hour white knuckle drive, I was told it would be a couple hours until they could unload me. Turned out, they were in no hurry at all. The takeaway from all this personal wisdom is to be certain of the consignees' requirements before panicking about production delays and transit times. When you're sick you call a doctor, in a legal matter you consult a lawyer. The same expertise is just as beneficial when managing your supply chain. If you do not currently have a relationship with a 3PL, think about starting one. It's a tremendous resource, particularly in a time of need. If you do have a current 3PL relationship, here are some tips to make the best of that relationship.

Think Long-Term Commitment

Like in all relationships, when an organization and its 3PL both have committed to mutual success, challenges can be overcome and the relationship can blossom. Service failures are part of our business. When you consider the vast amount of freight that travels thousands of miles across this country every week one must expect it can't all go right. The true measure of 3PL customer service is how we react to service failures. There are fire alarms daily. A short-term mindset only creates short-term solutions. Your 3PL is invested in the long-term success of your logistics operation, so you should be too. Work together to devise long-term strategies that will improve practices and result in mutual success.

KPI's; A Staple At Land Link Traffic Systems

Many years ago, the founder of Land-Link Traffic Systems Inc. stressed the following. "What does not get measured, does not get fixed". It would be difficult, if not impossible, for any rational person to repudiate this thought-provoking statement and important underlying principle of business. Yet, many companies do just that. Most companies, in fact, do not have the proper measurements and KPIs in place necessary to drive intelligent business decisions and to serve as support to the policies that are relied upon to drive day to day business activities.

Do not be one of those companies. Land-Link can help you support your business and gain and maintain competitive advantage through effective performance measurements.
Leverage the data collected as a result of Land-Link's freight audit and payment process. At last count, approximately 130 data elements are collected for every processed transaction, inclusive of a downloaded Bill of Lading record.

Data-base management.

Support of Key Performance Indicators deemed important by your organization.

Ongoing measurement and reporting.

Ad-Hoc and One-time special analytics supported.

ACCESS Database and customized reporting.

Dynamic Dashboard Technologies designed to put the power of analytics and KPI reporting right at your fingertips, an exciting and innovative departure from typical, static structured "reports".
The 3Pl relationship relies upon trust, communication, measurable performance initiatives and a trusted customer relationship. Land-Link's management team and staff of professionals are well positioned to provide the guidance and support that you need to gain and maintain competitive advantage within your industry through successful execution of your supply chain and logistics programs. Founded in 1978 we have amassed decades of logistics experience. We offer that wisdom to your organization.
2021 is going to be challenging. Don't go it alone. Contact us today for a review of your existing supply chain protocols.
Stay safe everyone and make the absolute best of this holiday season.
To stay up to date on these and other Logistics technology topics subscribe to our blog @ http://www.Land-Link.com/blog.
Author
Michael Gaughan
Technology Officer
Land Link Traffic Systems