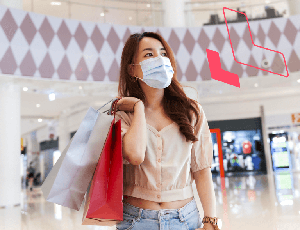 As retailers struggle with re-opening strategies it's clear the new normal will be something we have never experienced. Consumers in many areas of the world have tightened their wallets and eliminated discretionary spending because of lost jobs, lower wages, and uncertainty about how long the COVID-19 pandemic will last.
It won't be business as usual for non-essential retailers slowly reopening stores or when it comes to hiring holiday staff.
That's according to a survey of major retailers by Korn Ferry in which 66% of respondents said they will bring back only 80% or fewer of normal store employee staff as stores open, with 37% saying they will only bring back about half of the employees..
Nearly half (41%) of the retailers expect to have fewer seasonal workers this fall/holiday season. And 37% said they expect to have fewer permanent workers this holiday season than they did last season.
Only The Strong Will Survive Corona
Across the country, as states relax safety directives to varying degrees, some of the changes will be long term. An enormous amount of shopping behavior had moved online over the past several years and has moved further online since the pandemic hit, and much of it will stay there. Stay-at-home orders have been in place long enough for people to develop new habits, and the reopening process has been gradual enough that the online shopping habits many people have acquired will become their default go-to routines for many things.
Corona Virus may permanently change the in-store retail experience. It must be considered; why would people endure all these measures to go to the mall or department store. Limited shoppers, limited inventory and an uncomfortable experience is not likely something shoppers will endure. Certainly not in the long term.
It's important for retailers to revisit, revise and integrate their digital strategy across the enterprise and to have a unified data platform that allows them to adjust as consumer expectations shift week-to-week, and even day-to-day. Mastering their business-critical information in a master data management solution will help retailers advance their digital capabilities in an increasingly digital retail landscape, which, in turn, will help better serve today's shoppers. Online shopping, virtual fitting rooms and a liberal return policy is likely the plan to eventually emerge given the current environment.
Those retailers embracing digital transformation from marketing to delivery will likely be the ones that come out on top once stay-in-place orders and the COVID-19 crisis have subsided. Start preparing now by taking a deep dive into your operational, product and customer data and use that information to roll out the best products, and pick-up options, for your store.
The sight of malls packed with holiday shoppers will certainly not be happening this season or anytime soon. No one is sure of the long-term fallout from this pandemic, but it has reshaped the retail landscape significantly. Our hopes and prayers go out to everyone who has been affected by these conditions.
Stay Safe Everyone.
To stay up to date on these and other Logistics topics subscribe to our blog @ http://www.Land-Link.com/blog.
Author
Michael Gaughan
Technology Officer
Land Link Traffic Systems