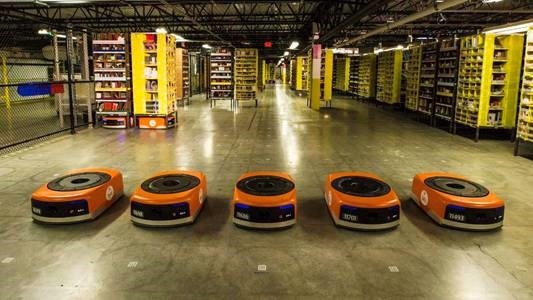 The robotics market serving logistics and transportation companies is primed for rapid growth over the next five years. There is a myriad of routine, repetitive tasks common to warehouse and distribution systems that are well suited to robotic technology. Much of today's warehouses are manually operated, meaning they have little or no automation support.
That's about to change in a big way. In 2016, the logistics robotic market had a global market revenue of $1.9 billion. In 2021, a recent study predicts market revenue for the global sector to reach $22.4 billion. In the same amount of time, robot unit shipments will grow from 40,000 to 620,000 annually. Amazon is well-known for their automated distribution centers, but other logistics companies are turning to robotics for the safety, efficiency and accuracy they provide. Companies are using robots to keep up with the relentless pace of Internet retailing. Before Amazon, consumers expected to wait weeks for mail-order items. Now delivery expectations can be measured in hours. With the ongoing, rapid growth that e-commerce continues to place on existing fulfillment networks, new solutions are emerging just in time. Warehouse technologies that support high volumes of small, multi-line orders are receiving great interest from practitioners as they realign their capabilities to fit the changing warehouse demand profile. Today, there are many types of robots available to help with DC/FC operation tasks. These robots can assist with loading, unloading, sorting, picking, transportation, storage, delivery and audits. Robots helping with these tasks come in all shapes and sizes. They also use different forms of navigation tools such as rail, wire-guided, labels, magnet tape, laser, vision, geo-guidance and others. Here are just a few robotic applications in today's warehouses and manufacturing plants.
Autonomous Mobile Robots on The Warehouse Floor
Wärtsilä and DHL have completed a successful pilot where the companies tested Fetch Robotics to investigate possibilities to utilize the latest technology innovations in the daily operations of the warehouse. The robots are designed to work alongside employees in a support capacity and to relieve them from physically strenuous tasks. The idea that robots will eliminate the need for human interaction is not the goal in today's technology. It does however give credence to the thought that eventually human interaction will likely be minimal or completely unnecessary.
At Rochester Drug, a mobile piece-picking robot named Adam roams aisles of inventory, selecting items directly from shelves without human intervention. At Whirlpool, 54 robotic tuggers, each with a stereo camera-based navigation system from Seegrid, deliver washing machine parts to 24 locations on assembly and sub-assembly lines in Clyde, Ohio.
This is just a glimpse of what's to come on the mobile robot front. We're on the cusp of some very radical changes to the warehouse thanks to automated robots. Warehouses and DCs and assembly lines have been equipped with permanently installed automation for several decades years now. Such equipment has been expensive to design, build, and install and complicated to support. The programmed tasks were always simple and repetitive. The defining characteristics of next gen robots will be mobility, multiple functionality and Artificial Intelligence.
Picking Operations in The Warehouse
In recent years, there has been a trend of picking enhanced by robotic equipment and systems that do not require a large infrastructure and high capital investment, such as the typical goods-to-person system. Locus Robotics is one solution that has engineered a new approach to less-than-case fulfillment operations. There are autonomous mobile robots, called LocusBots, that work safely alongside human employees to deliver higher e-commerce and less-than-case fulfillment throughput and efficiency. LocusBots automatically detect a wide range of worker's languages, changing instantly as they interact with each worker to help speed workflow and minimize errors. The integrated scanner confirms the item and ensures near 100% accurate pick and put operations. Another evolving trend is using robotic machines to perform the pick process. These systems can detect, reach out, grasp and place into a receptacle items to fulfill an order. RightHand Robotics, for instance, provides end-to-end solutions designed to reduce the cost of e-commerce order fulfillment of electronics, apparel, grocery, pharmaceuticals, and other industries. The core competency of the RightPick solution is picking "pieces" or individual items. Unlike traditional factory robots, RightPick handles thousands of different items using a machine learning backend coupled with a sensorized robot hand that works in concert with all industry-leading robotic arms. This is a fine example of the defining characteristics of next gen robots.
Robots Can Sort as Well
Designed and manufactured by OPEX Corp., Sure Sort is a robotic item sorter that handles complex variables and delivers a variety of single items to their final location in a single pass. Its compact array of sort locations can be scaled, sized and customized as well. It delivers by reducing the number of touches, transfers and conveyors required to run existing sorters. The system can handle a range of sizes, different packaging and varied orientation of an item. It automatically reads a barcode and delivers each item in a single pass to a designated order consolidation point. It is suitable for small businesses looking for a cost-effective entry into warehouse automation as well as large fulfillment operations looking to streamline their process. Its sorting accuracy is nearly 100%.
The Economics of Robotics
Supply chain performance is very sensitive to changes in business strategy and operating environments. Some of these changes include market changes, acquisitions, new products or packaging, new sales channels, and growth. There are also factors that impact operations such as market wages, labor availability, process flow, and customer requirements. To maintain a competitive advantage, the best companies have made automation a goal for ongoing improvement to meet overall business objectives. Designing an effective profit producing supply chain is an ongoing process that needs to change with the times. Businesses today have no choice but to seriously consider the benefits robots provide to the supply chain operation. Some of the largest supply chain operators in the U.S. have plans to automate almost every physical move in their facilities within the next two to three years. Robotic automation can extend the capacity, hours of operation, and efficiency of any supply chain operation. Robots are more affordable than ever, and increasing wages and lack of available workers makes the economics more attractive and justifiable than in the past. The future of the warehouse is happening now with robotics. Talk to our supply chain professionals at Land Link Traffic Systems to see if robotic applications may be an asset to your supply chain.