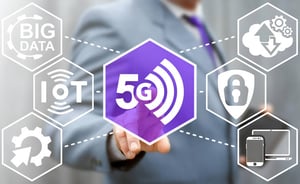 Limited 5G network deployments had begun in some markets in 2019, with widespread rollout expected to take place through the 2020s. The 5G wireless technology promises to accelerate data speeds, improve quality, and reduce latency in the world's mobile networks all of which means higher performance than today's broadband wired networks. "5G will be a game changer because it's 100 times faster and will support 100 times more devices than current 4G networks," according to the Cellular Telecommunications Industry Association. This week we take a look at the specific impact on the Logistics industry.
Enhanced Location Tracking and GPS Routing
5G will enable organizations to track their valuable cargo across all regions by optimizing coverage in areas that were previously far reaching and considered "dead-zones." Improved geo-location technology will allow for better visibility into delays and unforeseen travel circumstances, ultimately enhancing location intelligence and mitigating resulting problems. 5G will allow organizations to optimize their routes through improved visibility, and avoid unnecessary trips and inefficiencies. In addition to better tracking in large rural areas, highly trafficked areas will also see benefits from the implementation of 5G networks. As shipments traverse through highly populated metropolitan areas, tracking abilities won't be slowed down by a strained network. Ultimately, 5G facilitates the ability for logistics managers to account for cargo from end-to-end, during all points of its trip.
Increased Visibility and Cost Savings
According to a survey from Moor Insights & Strategy, 90% of logistics and shipping providers believe the lack of supply chain visibility is one of the biggest challenges in the industry today. With 5G, the implementation of cheaper sensors will allow better single item tagging and tracking, and near edge computing on small footprint infrastructure will allow faster inventory checking. 5G will help provide end-to-end visibility, not just at an aggregate level, but into every product, helping avoid revenue leakage via theft and loss. 5G will improve traceability by providing the ability to track and gather data at every step of the way, including if a truck changes weight (indicating a potential problem). This advancement will allow cargo owners to have high amounts of visibility into the shipping process that were previously difficult to access or nonexistent.
Virtual Reality and Augmented Reality Applications
The implementation of the 5G network will allow for technologies like enhanced virtual reality (VR) to support on-the-road backup and other assists. For instance, using VR, a remote mechanic could assist with road-side assistance, decreasing unexpected downtimes. Augmented reality (AR) can be integrated into vehicles to provide better end point recognition and ultimately enhance the safety of the driver. These technological updates will decrease time allotted for maintenance and save companies money as in-house mechanics can be on-call for any issues that may arise in-transit.
When 5G is widely available, its speed, quality, and lower latency will help realize the promise of many applications already under development, from the Internet of Things and robotics to virtual reality. Many of these innovations simply wouldn't work well enough at slower data speeds, with lower quality and higher latency. New applications are also expected to emerge, and as with any technology, many will be hard to imagine until 5G is actually in the field. The supply chain is seen as a particularly strong candidate for 5G innovation, including IoT devices for better monitoring, control, and even financing. Implementing advanced technologies to complement 5G networks will lead to more efficient business practices across logistics and supply chain companies.
Stay Safe Everyone.
To stay up to date on these and other Logistics topics subscribe to our blog @ http://www.Land-Link.com/blog.
Author
Michael Gaughan
Technology Officer
Land Link Traffic Systems