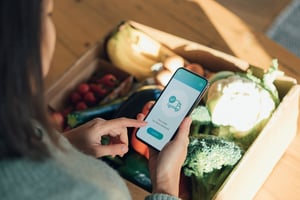 Masks, social distancing and all the other Covid restrictions will be with us for, at least, the foreseeable future. The uptick in home delivery should remain steady since most people have grown accustomed to home delivery and now prefer it. Many retailers are in a fight for their survival. Here's a look at what to expect.
Reduced Dependence on Chinese Manufacturing
It can be argued that this strategy is well overdue. Since joining the World Trade Organization in 2001 China has elevated its position on the world stage. China's annual economic output has multiplied more than sevenfold, reaching $14.3 trillion in 2019, according to Euromonitor International. It is now the largest exporter and is responsible for one-third of global manufacturing. The U.S. is China's biggest customer.
Online Grocery is Gaining Popularity
Obtaining groceries without stepping foot into a physical store is crucial for today's homebound consumers. While some demand will drop after lockdowns are lifted, many consumers will permanently shift to e-commerce, following in the footsteps of South Korea after the MERS outbreak in 2015. In fact, 51% of South Korean connected consumers bought food and beverages on their smartphone in March, which is the second-highest rate globally, according to Euromonitor International's 2020 Digital Consumer Survey.
Contactless Payment Options Become the Norm
Given safety concerns, consumers are opting for contactless card and mobile payments over handling cash or touching POS terminal keypads. As of late March, 22% of connected consumers globally used a digital wallet to buy at least one product in a physical store, according to Euromonitor International's 2020 Digital Consumer Survey.
Several players acted quickly in response: Mastercard, which reports that 75% of its transactions in Europe are contactless, raised the limits for contactless payments across 29 European countries to remove the need of a PIN; Walmart modified self-checkout stations to make these systems contactless; and Publix Super Markets sped up its tech transition to accept contactless payments ahead of intended plans. Prolonged social distancing will further ingrain this consumer habit, which will likely stick long term due to increased precautionary measures even after lockdown restrictions are eased.
Curbside Pickup Likely Here to Stay
As the boom in online shopping will continues, it will increase demand on last-mile delivery options. Curbside pickup could become a mainstay option. More retailers could even move to a drive-thru model to better facilitate in-store collection.
While retailers could lose out on upsell from consumers browsing their physical stores, retailers also need to explore more pickup options in order to find a way to control delivery costs that cut into margins. Smaller stores with digital inventories will be a necessary cost control option.
Technology Will be Dominant in the Race for Customers
Amazon and Alibaba controlled one-third of the e-commerce market globally in 2019, according to Euromonitor International. Store closures during the pandemic extended their dominance. Amazon, for example, hired 175,000 new employees as consumer spending on Amazon jumped 35%, according to Facteus. These titans will come out of the pandemic even stronger, permanently reshaping the retail landscape and driving a winner-take-all race that was already in motion. To stay in the race technology must be a central component of one's business plan.
The trajectory of technologies, such as cloud computing, will accelerate, making businesses more flexible. Robotics, in particular, are seeing exponential growth to reduce human-to-human interaction. We should start to see unmanned delivery options available for everything from groceries to medicine.
The growing role of tech will be one of the most pronounced long-term impacts from the global pandemic. While the length of the outbreaks and the potential pace of recovery are still unknown and will differ across markets, technology is here to stay and flourish. The coronavirus pandemic has underscored the important role technology plays in consumers' lives as well as the role it serves for businesses that continue to adapt and operate under such conditions.
Stay Safe Everyone.
To stay up to date on these and other Logistics topics subscribe to our blog @ http://www.Land-Link.com/blog.
Author
Michael Gaughan
Technology Officer
Land Link Traffic Systems