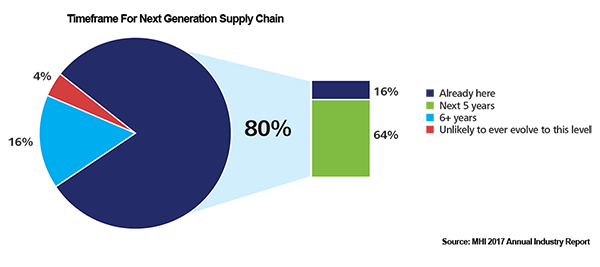 Today's dynamic logistics environment demands an ever increasing supply chain efficiency sprouting new strategies, practices, and processes, all of which are designed to meet the requirements of the new digital economy. The "Amazon Effect" has been the major catalyst for the evolution of contemporary supply chain design. The Amazon effect is the ongoing evolution and disruption of the retail market, both online and in physical outlets, resulting from increased e-commerce. The name is an acknowledgement of Amazon's early and continuing domination in online sales, which has driven much of the disruption. We'll highlight just a few new technologies that are being implemented in varying degrees in the next gen supply chain design.
Digital Dominance
In today's supply chain environment, the speed of digital integration is critical. In fact, by launching "digital sprints" (expediting software implementation quickly) they're pushing through the hype and getting their logistics and supply chain organizations to real, tangible outcomes. It may not be today, but certainly the digitization of manufacturing, distribution, logistics, and supply chain is on the horizon.
Blockchain Technology
We have introduced Blockchain technology is several previous blog articles. A continuously growing list of records called "blocks," which are linked and secured using cryptography, blockchain is expected to affect the supply chain in big ways in the coming years. By serving as a virtual "ledger" across the supply chain, for example, blockchain establishes a reliable chain of accountability that's particularly relevant for the food industry and high-value goods. Collaboration and security are perhaps the biggest advantages that blockchain technology provides, with high-level collaboration available to all parties involved in shipment process.
Cloud Based TMS Systems
As one of the first supply chain applications to make its way into the Cloud, transportation management systems have been steadily shifting away from on-premise/installed solutions to Web-based platforms where shippers, business partners, carriers, third-party logistics providers and, in particular, customers can access pertinent information via the Web on a 24/7/365 basis in real-time. Collaboration is a significant component of the next gen supply chain. Both accessible and affordable for transportation providers, Cloud-based TMS offer distinct advantages to shippers in a world where transportation related costs and complexities increase year over year.
Final Mile Challenges
The e-commerce boom has spawned its own unique challenges. Shipping direct to customers complicates both the cost and effectiveness of the typical transportation algorithm. Final mile delivery is the most expensive and time consuming portion of a typical e-commerce delivery. In fact, finding solutions for the last-mile delivery challenge is an ongoing concern for companies that ship goods directly to customers. And as the volume of e-commerce shipments has grown exponentially, that problem has become even more acute. In fact, exactly how a shipper manages its last-mile deliveries can make or break a business. Options like Uber and private delivery companies have been utilized. Amazon has even filed a patent for a floating airship warehouse which will float above a delivery area and launch hundreds of drones to complete the final mile delivery. These new technologies are supplying possible solutions to the demands of today's consumers.
Robotics in the Supply Chain
While robotics may still be emerging in logistics operations, early adopters are finding that it is reliable, productive, and cost effective in the right application. Robots are more than just automation, and they have more use than just speed and repetition. Robotics increase productivity, reduce operating costs, and improve product quality. Robotics are enabling people to do more with less. Shippers, manufacturers, and transportation providers need to embrace the inevitable proliferation of robots, identify where and how robotics can add value, and think of robots as modern tools to support business process execution. Artificial Intelligence will be the catalyst for the next gen robot. Advancing technology from its current speed, and repetition applications to much more advanced and complicated tasks beyond that which the unit may have been programmed to complete.
These are indeed interesting times. To keep up with the latest trends in Logistics subscribe to our blog @ http://www.Land-Link.com/blog.