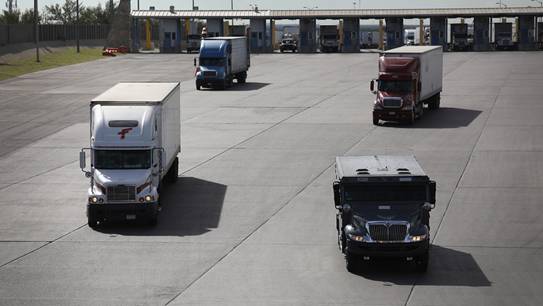 In revising the North American Free Trade Agreement, the Trump administration will seek tax equality and the ability to reimpose tariffs if a flood of imports from Canada and Mexico causes "a threat of serious injury" to U.S. industry. According to an administration draft proposal being circulated in Congress by the U.S. trade representative's office, the U.S. would keep some of NAFTA's most controversial provisions, including an arbitration panel that lets investors in the three nations circumvent local courts. The administration also will seek to eliminate a requirement in the trade deal that anti-dumping and anti-subsidy disputes be settled via a special dispute panel. Some U.S. industries including lumber have complained that the current agreement protocol is ineffective in stopping unfair subsidies. Additionally, the U.S. wouldn't use the NAFTA negotiations to deal with foreign currency policies or to hit numerical targets for bilateral trade deficits, as some trade industry watchers have been urging.
Time Line for Changes
The current draft is just that. It is subject to change. There are a number of potential sticking points and murky details about any NAFTA renegotiation, but it's becoming more clear when it could actually go down. "I think the negotiations, hopefully, won't take more than a year," said US Commerce Secretary Wilbur Ross. "How long it will take to implement them and to get the reductions — that's a different question.: The administration must give Congress 90 days' notice under trade law before beginning formal NAFTA renegotiations. It is far from clear that Canada and Mexico would agree to the changes the U.S. seeks.
Implications for Mexico
There is a particularly concerning scenario for Mexico. "Long negotiations that would subject Mexico to an extended period of uncertainty is concerning said Roberto Simon," the lead political analyst for Latin America at FTI Consulting. Of primary concern is that extended negotiations could impact the 2018 Mexico elections potentially destabilizing the Mexican economy. While Mexico's political classes have responded to Trump's attacks with some solidarity with their current administration, Mexican displeasure with Trump and with their government's responses to him have begun to favor the candidacy of Andres Manuel Lopez Obrador, a two-time leftist presidential candidate seen as the most willing to rebuke Trump and defend the interests of Mexicans who haven't benefited from the leadership of Peña Nieto and his predecessors.
The turbulent political climate proposes many uncertainties. Mexico has started moving to shore up trade deals with the EU, China, and other countries in Latin America. Though, Simon said, given the immense scale of Mexico's trade relationship with the US, new trade agreements would do little to offset even a small change to NAFTA. Considering everything at play, any final revised NAFTA treaty is likely to take considerably longer than the Trump administration would like.
Implications for Canada
Implications for Canada are far less reaching than that of Mexico. Mainly because of a strong U.S. Canadian relationship. The Canada-U.S. free-trade agreement (FTA) was never terminated; it was merely suspended for so long as NAFTA is in force between Canada and the United States. Therefore, if the United States were to withdraw from NAFTA, FTA probably would come back into force. When NAFTA was concluded, the intention was that FTA would kick back in automatically if NAFTA ceased to apply to Canada-U.S. trade, but it is not entirely clear if some sort of affirmative action is required. The U.S. potentially could terminate FTA too, also on six months notice, leaving Canada-U.S. trade to be governed by WTO rules, including the WTO's "most-favored nation" duty rates.
However, that scenario seems highly unlikely. The principal focus of Trump's opposition to North American free trade has been Mexico. By contrast, the FTA was one of the legacy achievements of the Reagan Administration. It is difficult to imagine Trump wanting to undo that legacy, or that his new U.S.
To keep current on critical topics like these please subscribe to our blog http://www.Land-Link.com/Blog.