President Trump took to Twitter this week to voice his concerns over the Chinese tariff debate. Trade protection is something Trump has believed in for years and was a significant issue during his presidential bid. He seems to have some support from Democrats on Capitol Hill including Senate Minority Leader Chuck Schumer. But talk of tariffs tends to rattle financial markets, both because the actual tariffs themselves are costly to the United States and because they inevitably raise the prospects of further rounds of tit-for-tat retaliation. Wall Street does not react positively to such declarations regarding international trade. The Dow Jones Industrial Averages plunged 450 points Monday morning in reaction to the twitter feed. In case you're not on twitter below is a summation of Mr. Trumps Posts.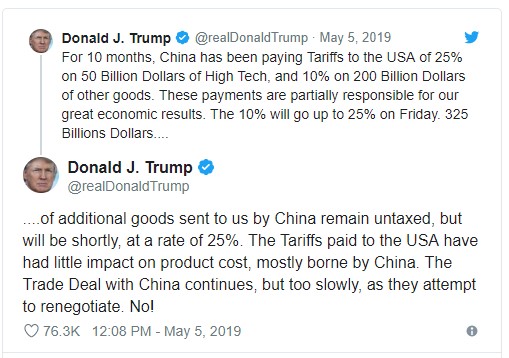 Repercussions on International Logistics
It's a prudent tact to examine how these tariff talks are playing out and gauge the potential effect on your organization's supply chain.
The initial impact of the trade war tsunami was expected to affect ocean freight. Despite tariffs on billions of dollars' worth of imports coming in from China, Supply Chain Dive says imports at U.S. container ports are expected to stay at near-record levels. Citing reports from the National Retail Federation (NRF) and Hackett Associates, the publication says many companies will continue to import products from manufacturing facilities in China because changing up sourcing isn't easy or fast. U.S Exports, on the other hand, may bear the brunt of the next wave of the trade war tsunami.
Some Estimates Approach $40 Billion In Domestic Export Losses
President Trump's strategy regarding the Chinese tariffs has been to right a long time wrong. Again, this was a significant aspect of his presidential campaign. The position, which has arguably, merit may come at a substantial cost to the U.S. economy. The theft and mistreatment of intellectual property, a potential monopoly around 5G cellular technology and the knock-off market of some very high-end consumer goods have had a major impact. It's a difficult pill to swallow, but until now no political official has been willing to tackle the issue. What remains to be seen is how far Trump will take this battle and how much collateral damage will result. The initial collateral damage is in the lane imbalance of exports vs. imports. In an ideal world, transportation providers would like to see a balance of full containers going and coming to whichever port to reposition assets to meet demand. The trade war is expected to have a detrimental effect on this sensitive balance, specifically regarding U.S. exports. The imbalance of shipping containers is but a symptom of misaligned supply and demand caused by the ongoing trade skirmishes. But it is also an indicator of real impact on the supply chain.
For council on how these and other supply chain issues may affect your organization, please subscribe to our blog or contact us today @ www.Land-Link.com.