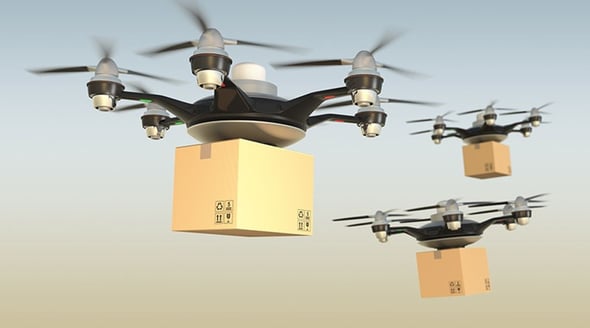 UPS announced this week that it is the first to receive the official nod from the Federal Aviation Administration (FAA) to operate a full "drone airline," which will allow it to expand its current small drone delivery service pilots into a country-wide network. Obviously, it's a huge win for UPS Flight Forward, which is the dedicated UPS subsidiary the company announced it had formed earlier this year to focus entirely on building out the company's drone delivery business. There's still a lot left to do before you can expect UPS drones to be a regular fixture, or even at all visible in the lives of the average American.

Implementation will be cautiously ramped up by building out its existing drone delivery solutions specific to hospital campuses nationwide in the U.S., and then to other industries outside of healthcare. Earlier this year, UPS announced a groundbreaking new logistics service to deliver medical samples via unmanned drones through a collaboration with Matternet, a leader in autonomous drone technology. The program is taking place at WakeMed's flagship hospital and campus in the Raleigh, N.C., metropolitan area, with oversight by the Federal Aviation Administration and North Carolina Department of Transportation.

The UPS and Matternet program represent a major milestone for unmanned aviation in the United States. Currently, the majority of medical samples and specimens are transported across WakeMed's expanding health system by courier cars. The addition of drone transport provides an option for on-demand and same-day delivery, which allows the ability to avoid roadway delays, increase medical delivery efficiency, lower costs and improve the patient experience with potentially life-saving benefits. Enhancing the UPS Global Smart Logistics Network to support hospitals and other healthcare organizations remains a key element of the company's transformation strategy. Healthcare and life science logistics is a priority segment for UPS, and the company is building new relationships and technologies to deliver better patient care with streamlined logistics and supply chain.

Although UPS is the first company to be granted an FAA license to operate a drone airline, it is not alone in the exploration of drone delivery technology. Last year Amazon was awarded a patent on its floating warehouse design. Aided by blimps, the floating warehouse would hover over a delivery area and drones would descend from the warehouse to complete the final mile delivery of thousands of packages. Wal-Mart has a similar patent application in the works.

A floating warehouse would allow Wal-Mart or Amazon to serve a wider distribution area than their current real estate allows. Now, the race is on to see which company can make the technology work before the other.

Near Term Drone Applications

Research from the National Aeronautical Center recently revealed that 42% of logistics carriers believe their business plans to use UAVs for the distribution of cargo in the future. With fuel prices identified as one of the most important perceived risks facing the logistics industry, industry participants may view UAVs (Unmanned Arial Vehicles) as a way to provide cost savings in the long term. A more likely near-term application is in the transportation of smaller parcels in that all important urban first and last mile, particularly as e-commerce volumes grow. DHL predicts that it could be in this market where UAVs could provide relief for inner cities, taking traffic off the roads and reducing congestion, with delivery times maintained, although mostly in the small parcel category.

Security Safety and Regulatory Concerns

The main, short term barrier to the widespread adoption of UAVs is a lack of regulation surrounding their use and the fact that the little regulation that does exist is still evolving and varies from country to country. Strict airspace management and/or improved technology will be needed to minimize the collision risk with other UAVs or, indeed, manned aircraft. Operation of UAVs may not be allowed based upon GPS coordinates, with restrictions introduced to ensure adherence with no-fly zones, particularly over nuclear, security, and military facilities. Public anxieties concerning UAV safety will be a critical factor in the development of requirements to adopt safe methods of operation and training in the licensing regime. Training schemes are currently being developed and accredited by licensing authorities to ensure that UAVs will be operated by competent individuals.
One thing clear about UAV technology is that it is filled with promising possibilities. To stay informed on technology topics in logistics, contact us today!