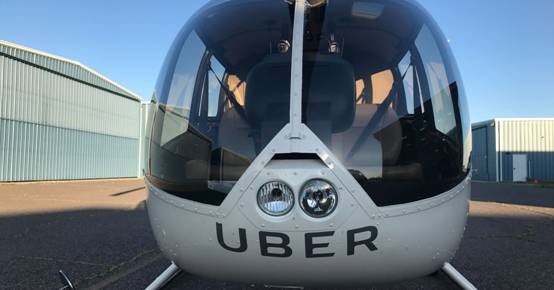 The Transportation industry has evolved dramatically in the last several years all thanks to the smartphone. Without it Uber and Lyft would not exist, nor would Uber Freight. It seems now you can request a Uber helicopter in New York City. Uber is adding regular helicopter air service to the heaviest users of its platform with Uber Copter; a new service line launched this month that will provide on-demand transportation from Lower Manhattan to JFK airport for, on average, between $200 and $225 per person, which includes car service to and from the helipad at each end. A ground transportation ride to the same destination is less than half the helicopter ride but the convenience and thrill may be worth it. Given the NYC traffic it may be worth the extra fare to not miss your flight. Plus, this isn't something just anyone can access: It's reserved for Platinum and Diamond members of Uber's Rewards program, which means you'll have to already be dropping a lot of cash on rides to even qualify for whirligig service. If you qualify, the rides are available either on-demand, or bookable up to five days ahead of time. Each helicopter has room for up to five passengers. In time the service will be available to anyone. The depths of service which technology has opened up is truly staggering.

Safety Is Always A concern

In the non asset world of transportation providers, we all depend upon equipment providers. Vetting these providers on behalf of our shippers is a primary responsibility. This is only one of the values of contracting with a 3Pl. A helicopter crashed this week in NYC which had previously dropped off passengers. The weather turned foggy over Manhattan that morning. Turns out the pilot did not have the required certificate that would have allowed him to legally fly when the visibility was less than 3 miles and where he could use the instruments on his chopper to guide him through the gloom and rain that enveloped the city. So the question here is who is vetting these helicopter pilots, weather private or for Uber. I question whether Uber, which is a mere child in the transportation industry at 7 years old, is schooled in the transportation vetting process which is necessary to provide safe cargo and personal conveyance in both inter and intra state transportation. It seems technology is setting such a pace that safety cannot keep up. Speed and convenience seems to have taken a back seat to safety.

How Much Risk Are You Willing To Take?

With the convenience of transactions comes risk. Sure you can hail a car, a helicopter, or who knows, even a boat to transport you or your loved ones. But how much do you know about who is picking up your precious cargo? It is also possible to hail a truck to transport your freight through Uber or several other apps...same question applies. Are you seriously going to trust your brand equity to some trucker you assume has been professionally vetted? While all of these conveniences have their acceptable levels of risk you must consider your options when the stakes are high. When you need a quick ride downtown or your late for the airport and want to take a helicopter ride that's your risk. But when you freight shipment is of high value or the client satisfaction is of great importance you need to consider everyone's risk. That's when you need to go with the experienced and proven freight transportation providers like Land Link Traffic Systems. We will provide the most reliable assets available and track the shipment throughout its journey. Satisfaction is guaranteed. Give us a call today for more information. We look forward to hearing from you!