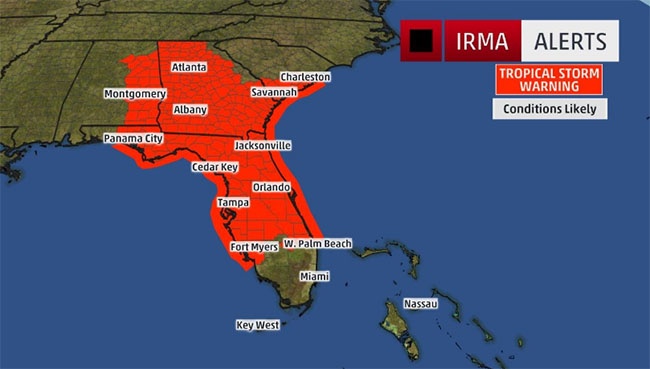 A Harvey and Irma one-two-punch is bound to significantly effect freight movement in the Southeast and potentially the rest of the U.S. Trucking analysts fear widespread industry disruption as Hurricane Irma slams the Eastern Seaboard, especially since the track is headed for freight distribution centers in Georgia in the coming week. We may not realize the full impact of fewer available trucks and DC bottlenecks for days or weeks to come. Most trucks that did get stuck in Florida are likely from somewhere other than Florida since it is such a consumption state. So that equipment taken out of service could have an affect just about anywhere in the country.
Price Increases Due To Harvey
Truckload prices increased post-Harvey as the number of trucks available to carry loads shrank, according to DAT Solutions. Spot rates went up 5.5 percent nationwide, even as the number of loads fell by 10 percent due to the loss of about 72 percent of outbound loads from Houston. This included secondary impacts on routes around the country as the market adjusted. Rates from Chicago to Denver jumped to $2.71 a mile from $2.50 a mile, while even Columbus, Ohio, to Allentown, Pa., saw a 31-cent-per-mile increase, to more than $3 a mile. It's certainly logical to assume that Irma's devastation will have a similar effect in, at least, the southeastern states. XPO Logistics is seeing "disruptions in intermodal freight that could continue for some weeks" because of Harvey, according to Troy Cooper, chief operating officer of XPO Logistics Inc. Both Houston and Freeport, Texas, drayage terminals remained closed, and there are rail embargoes in the region. XPO was pursuing "other options" for customers, he said, including ground and air expedited transportation, and taking loads in and out of Mexico by brokered truck.
Contingency Planning For Supply Chain Interruptions
The lesson we should all take away from Harvey, and now Irma, is that contingency planning is an absolute must in order to mitigate supply chain interruptions. Whether operations are focused in a small geographic area or span countries and modes, all disruptions have the potential to ripple through our network equally, presenting new problems to solve, sometimes hundreds of miles from their origin. The supply chain will only grow more rigid as technology makes it more efficient, so transportation providers and users must grow proportionally more agile to stay competitive and keep freight moving, no matter the challenge. Contingency planning, it seems, is no longer just a backup strategy, but an essential part of maintaining day-to-day operations.
Contingency planning starts with communication and information gathering. Cultivating relationships with other supply chain partners and building a solid communications network is a vital first step. Without a solid communications network in place, gaining access to vital information for rapid, accurate decision-making is compromised and depending on the magnitude of the situation, next to impossible. Contingency planning requires having a plan A, B, and C, giving planners access to information in real-time, all the time. In today's business environment, that means allowing customization and 24/7/365 access to ensure vital information is supplied seamlessly to the people within the organization who need it to make decisions. For assistance in getting your contingency plan in place or improved reach out to the Logistics professionals at Land Link Traffic Systems @ http://www.Land-Link.com.