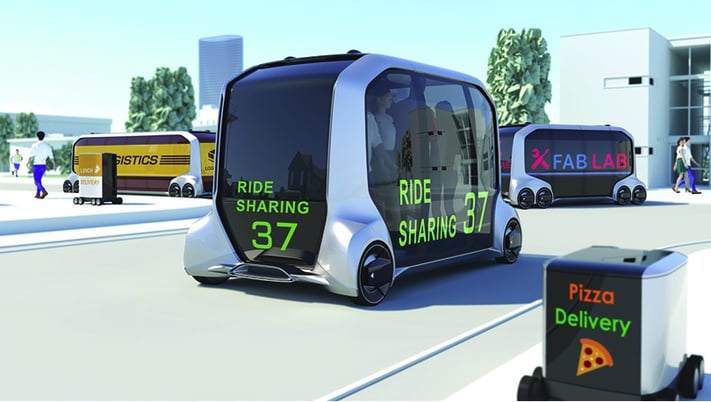 The exponential growth of e-commerce is fueling significant changes in Logistics from order fulfillment to packaging protocol, line haul and final mile delivery. And the demand will only go one direction...directly north. To be prepared for what is to come, logistics managers need to think in terms of systems that they can leverage today to make processes more efficient, while also anticipating the longer-term developments that will reshape tomorrow's possibilities. It's an exciting, yet challenging, time to be in the logistics business. There is much planning to be done. Keeping up with the trends will help logistics professionals keep pace with current demand while making informed decisions on everything involved in your organizations e-commerce supply chain strategy to meet future demand.
Several of the trends currently in use, such as predictive analytics, supply chain control towers, and the continued digitization of freight forwarding continue to be relevant. However, many breakthrough technologies including blockchain-based traceability, driverless trucks, and even the advent of hyperloops, are all working through development, but promise to present bright new options in the future. We have written about many of these emerging technologies in previous blogs, but they bear revisiting.
Predictive Analytics
Predictive Analytics is not really a new technology. It is basically utilizing historical data to predict future demand. With the massive amounts of "big data" in today's online transactional marketplace the ability to manage and interpret the massive amounts of data cab provide a reasonably accurate forecast for future demand for products and services. The new take, says Joe Vernon, senior manager of North America supply chain analytics for consulting firm Capgemini, is predictive analytics that make use of machine learning and other related technology, including artificial intelligence (AI). The goal is to take all this data and be instructive with it, which is where machine learning comes in. Machine learning can look for patterns and clusters of activity to sort out what it all will mean on either the demand side or on the supply side. The theory behind AI is that with each interpretation and execution of data the efficiency should improve. So, the system learns from previous executions what was most effective and builds upon those results.
New Modes of Transportation
We blogged about the Hyperloop last year when Elon Musk introduced his plans to construct a high speed revolutionary rail system between LA and San Francisco. Hyperloops could one day send pods filled with cargo zipping through a tube at 700 miles per hour, using magnetics to reduce friction. If such hyperloops ever become reality, supply chains would have new transport options, potentially shaking up routes, networks, and disrupting many of today's transportation modes. There are many hurdles to hyperloop becoming a reality, but with some high-profile people behind it, it's attracting more funding to develop it further. If it ever starts to prove itself in the market, it provides another mode of transport. It's worth keeping an eye on as something with long-term potential.
Driverless Trucks
There is no ease expected in the ongoing driver shortage. In fact, the American Trucking Associations announced that the shortage reached 50,000 drivers at the end of 2017, and, if trends hold, could reach 174,000 drivers by 2026. This shortage trend alone should accelerate interest in driverless trucks. The driverless technologies that support driverless trucks are progressing rapidly with at least a couple of pilot tests last year on real roads. The main hurdles facing the realistic implementation of this technology are mainly social and legislative. Public safety is a paramount concern of legislators as well as the general public. It's going to take several years for social acceptance and comfort with the idea of 80,000 pounds rolling down the road with no one in the cab. Insurance companies will be challenged on how to rate coverage's and legislators will need to draft laws regulating the overall use of driverless technology in the commercial sector.
Blockchain Meets Supply Chain
We blogged about the emergence of Blockchain Technology last year as well. Blockchain technology is expected to play a significant role in the supply chain protocol of tomorrow, particularly in perishable and high value commodities. The blockchain technology basically provides a fool proof audit trail of a shipments status from start to finish. Blockchain will benefit the logistics process by building trust, reducing costs, and accelerating transactions. Transactions and device data can be viewed peer-to-peer, removing most legal or contractual costs.
Contracts are verifiable, signed, and encoded in programming language to allow organizations to reduce the time they need to complete legal or contractual commitments. Simply put, Blockchain technology enhances security of documentation transaction and increases visibility among shipper, consignees and their agents.
To keep informed on these and other topics relating to the Logistics industry subscribe to our blog @ http://www.Land-Link.com/blog. For specific questions regarding your organizations supply chain reach out to one of our Logistics Professional today.