The ELD (Electronic Logging Device) mandate is roughly 30 days away. The effective date, which has been pushed back several times, is now December 18. The electronic logging device (ELD) rule – congressionally mandated as a part of MAP-21 – is intended to help create a safer work environment for drivers, and make it easier and faster to accurately track, manage, and share records of duty status (RODS) data. An ELD synchronizes with a vehicle engine to automatically record driving time, for easier, more accurate hours of service (HOS) recording.
How is the Mandate Expected to Affect Truck Availability?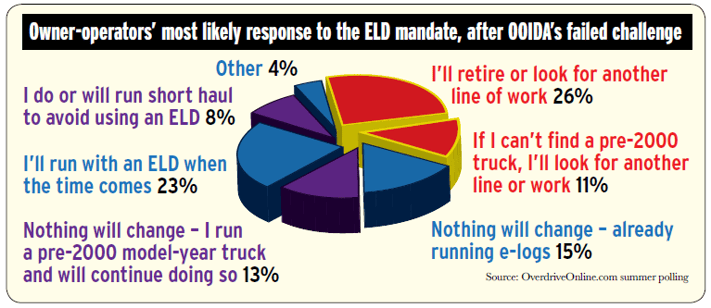 There has been much speculation regarding the level of compliance to the federally mandated deadline. A significant number of smaller carriers and owner operators threaten to leave the industry rather than comply to the expense of adding ELD components to their equipment. With the ELD rule, the FMCSA estimates that the average annual cost of an ELD will be $495 per truck, with a total range of $165 to $832 per truck on an annualized basis. On the surface, these figures don't seem that dramatic but can add up when considering compliance of a significant fleet of trucks. The cost of training must also be considered. If it really is tough to teach an old dog new tricks, it can be a mega challenge to teach old truckers new hardware and software applications. Truckers' willingness to work under the new mandate varies by age, with drivers 61 and older as likely to say they will leave rather than get an ELD as they are to say they'll stay in the business, said Peggy Dorf, a DAT market analyst. By contrast, drivers in their 30s to 50s are twice as likely to say they are planning to stay with the industry and already had an ELD, she said. It isn't surprising that the relatively younger drivers are more willing to adapt to today's technology. A major concern for driver recruiters is the ever-dwindling number of young people interested in an over the road trucking career. Its unclear, at his point, how much autonomous vehicle technology will compensate for the lack of a new generation of truckers. One thing most industry experts will agree on is that all of these factors point to a sure reduction in drivers and therefore, available equipment. Naturally, rates will be affected as well. In terms of rates, we are seeing a 6 to 10 percent increase in contract rates said Thayne Boren from Truckstop.com. Heading into next year, some economists are predicting rates to approach 20% increases for the holiday season.
What Steps Can You Take as a Shipper to Ensure Your Freight is Picked Up
In this new environment, carriers can afford to be selective about what freight they haul. Understandably, they're taking steps to ensure equipment and personnel are utilized to maximum potential. Here are some suggestions on how to become a preferred shipper.
Promote Driver Productivity and Reduce Detention Times. Nothing influences driver productivity more than quick loading/unloading and short waiting times. To be a carrier-friendly shipper, efficiently deliver loads to keep the driver moving. Carriers also prefer 24/7 facilities and drop-trailer programs. This helps drivers spend more time on revenue generating activity and frees them from long wait times.
Sign a Contract and Outline a Consistent Schedule. Contract rates are lower than spot market rates, and shippers receive consistent capacity for signing a contract. Then, shippers can work with the carrier to outline a schedule. For example, avoid scheduling long-haul shipments right before the weekend or a holiday that may have tight delivery requirements.
Plan Smart Routes. Single and no-stop routes aren't possible for all shippers, and some shippers even have fluctuating volumes of freight throughout the year. To counteract this, look for ways to consolidate shipments and book routes that keep the driver away from home for as little as possible. A TMS can be a huge help planning routes.
Create Relationships with Carriers. Even if you're not the most carrier-friendly shipper, carriers tend to stick with businesses who have used their services through and through. Select a carrier and stick with them. Having a driver's facility helps also. Drivers lounge area, restrooms, parking spaces and vending machines make the shipper's site more comfortable for drivers.
Work with a 3PL. Consider outsourcing your load planning to a dependable 3PL. A 3PL's expertise and technology will secure the best contract rates with carriers. 3PLs have working partnerships with carriers and can find capacity for just about any type of freight when you may not be able to.
For more information on these topics and more, or for expert advice on your supply chain, subscribe to our blog and ask the experts @ http://www.Land-Link.com for a complimentary supply chain review.