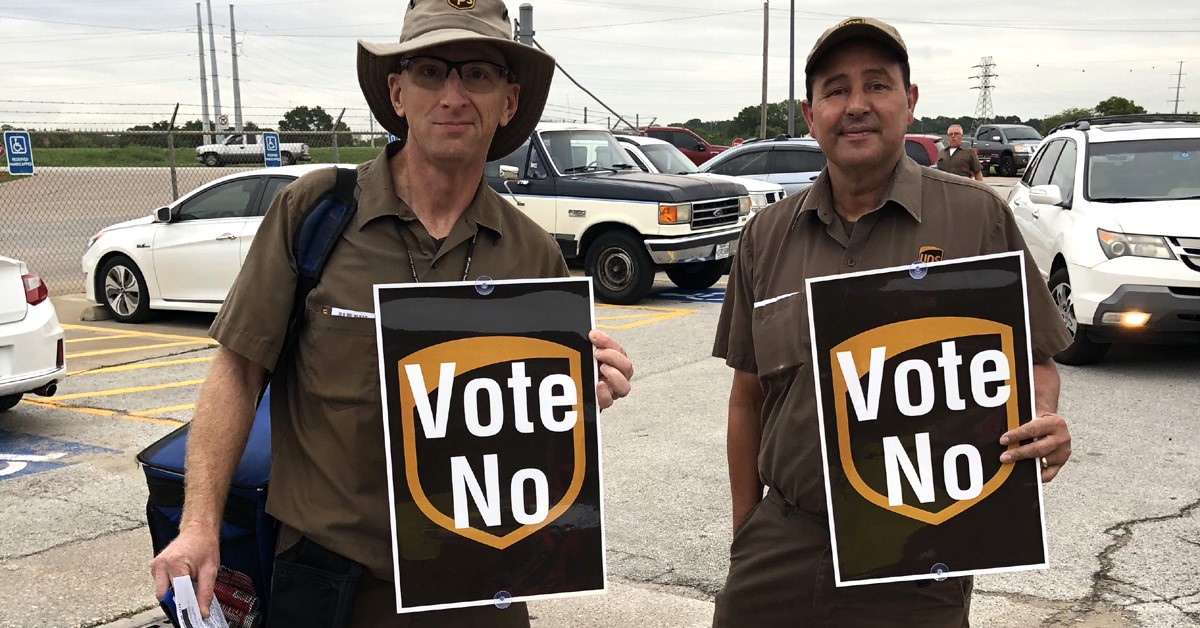 The Teamsters union is threatening a strike over the terms of this years contract. As of October 25, the Teamsters National Freight Negotiating committee has received its last best offer from UPS freight. Voting on the contract will be happening throughout this week starting November 7. The previous contract was rejected on October 5th. There is a 30-day extension of the current contract which will expire on November 12th. The negotiating committee demanded:

1) tighter restrictions and limits on subcontracting and rail usage;
2) higher wage increases that are not split;
3) earning protection for city drivers when they perform dock work;
4) elimination of the new qualifiers for pension and vacation benefits; and
5) a week's worth of vacation pay for all classifications based on 1/52 of the prior year's earnings.

The negotiating committee has determined that the LBFO does not sufficiently address the issues raised by the members. Nevertheless, because of the company's insistence that there is no more money to be had and in order to allow its members to make an informed decision on a question that will affect them and their family, the negotiating committee decided to submit the LBFO for acceptance or rejection. a strike has already been authorized. While a strike is a last resort, if the members reject this final offer from the company there will be no other options and there will be a strike at a time and location(s) determined by the negotiating committee.

The Repercussions of A UPS Strike

Two decades ago, 187,000 employees at UPS walked off the job for 16 days. As of Wednesday, the company's union workers, now numbering 260,000, are threatening to do so again. The walkout on Aug. 4, 1997, led to hundreds of millions of dollars in losses for UPS. It was, at the time, one of the biggest nationwide strikes the country had ever seen. It was a different time, though. The strike impacted consumers differently than it would today since business owners saw the most direct effects, often unable to restock shelves. The consequences of a strike today may be much more severe than that of 20 years ago. The online community, from both a seller and purchaser viewpoint, will be dramatically affected. When we think online retailing we have to think about Amazon. They will be the barometer for the effects of a UPS strike on the economy and international commerce.

Amazon's tight relationship with UPS is supplemented by one with the U.S. Postal Service. Should UPS be unable to deliver customer packages, it's possible the retailer will lean heavier on the USPS. Trump, though, is no fan of that relationship, attacking Amazon in a series of tweets earlier this year, saying the company wasn't paying enough to ship packages. Experts have disputed this position, saying Amazon and other online retailers have helped stanch the post office's declining cash flow. Still, a weakened Amazon could bring another round of Trump attacks. Or, worse, inaction.

President Bill Clinton refused to stop the 1997 strike, even though he did have the legal power to do so under the Taft-Hartley Act. But Labor Secretary Alexis Herman strongly urged the two sides to stay at the negotiating table for 80 hours of talks in a five-day period. That pressure is credited as one of the reasons the strike didn't last long. The LTL Strike of 1994 Crippled interstate commerce for weeks. I was a seasoned Transportation manager during the strike of 94. It involved the teamster drivers employed by some 20 plus common carries. LTL comprises the bulk of freight shipments domestically so the impact was huge. There was a mad scramble to consolidate shipments by carriers nationwide who were not experienced in consolidating small LTL shipments; typically 2-4 pallets. Equipment availability was severely impacted as was delivery schedules and rates. It was a bad time for shippers as they had to look toward truckload and expedited carriers to get their freight delivered. To make matters worse, the mid 90's began the JIT ( Just In Time )inventory system. Simply defined, It was a cost-saving measure to reduce inventory carrying costs started by the automotive industry. It was an effective business philosophy but relied heavily on tightly defined pickup and delivery windows. The significantly devastating downside of such a philosophy is definitely any type of work stoppage.

How Do Protect Your Business From A UPS Strike

It is not likely to happen but fortune smiles on those prepared. Asset availability is going to be the biggest issue. Given the timeframe of the potential threat, there is no time to go through the steps to get set up with additional providers. This is a time when an established 3PL can offer valuable alternatives quickly. In the event of a strike, contact Land Link Traffic Services to help your business get your product delivered. Visit us today www.Land-Link.com.