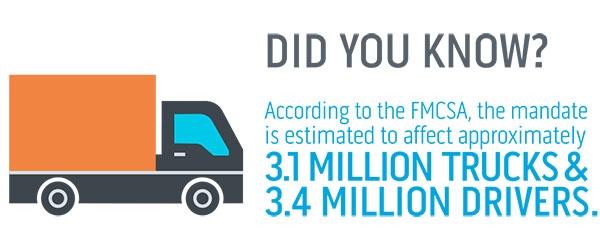 "Telematics", loosely defined, is described as the branch of information technology that deals with the long-distance transmission of computerized information. Telematics is a combination of the words telecommunications and informatics. Telematics, in a broad sense, is any integrated use of telecommunications with information and communications technology. It is the technology of sending, receiving and storing information relating to remote objects, like vehicles, via telecommunication devices. This may be considered as simply some complicated verbiage to describe an overly complicated process that we've been practicing for decades. The most immediate application of Telemetrics will be the ELD mandate set to take affect December 18, 2017. In this article we will attempt to outline what to expect, how to prepare and potential liability issues for your organization.
How Telematics Relates to GPS Technology
Under the Telematics umbrella is the integration of Global Positioning System technology, computers and mobile devices. The term "telematics" has even evolved to refer specifically to GPS vehicle tracking. Connectivity is the biggest enabler of a lot of potential benefits for this industry," argued Wallace Lau, an industry analyst with the automotive & transportation practice at global consulting firm Frost & Sullivan; benefits such as increased fuel economy, less vehicle downtime, higher productivity and, ultimately trucks that drive themselves.
Telemetrics And The ELD Mandate
Starting December 18, 2017, truck drivers will have to scrap the paper logbooks in use since the 1930s in favor of some type of electronic logging device, or ELD. The immediate goal of the transition, mandated by Congress in 2012, is to improve driver hours-of-service enforcement. Getting ELDs into more than 3 million drivers and trucks before that deadline is a major undertaking, and one projected to cost trucking operators more than $1 billion. Training those truck drivers to use ELDS also could take months, a period in which productivity may decline.
How Will All Of This Impact Me As A Shipper?
From the shipper's perspective, the ELD mandate could lead to reduced carrier productivity, driver shortages, and increased rates. Drivers may also refuse to work with facilities with extended wait times or charge more for going into difficult loading and unloading locations.

Longer wait times may turn into service failures for the shipper because product will not be delivered on time. This, coupled with capacity shortages, may force shippers to resort to expedited solutions or team drivers, which can cost 10-30% more than traditional solo transits. The ELD mandate will also result in drivers holding shippers to their appointment times or charging them if they are forced to wait.

So how can shippers be more prepared to handle these challenges?
Review appointment and lead times. Check with your carriers to make sure they will be on-time, and communicate with them when wait times are expected to be longer than normal. Additionally, provide carriers with enough lead time so that they can legally run the load.
Preload trailers. Preloading trailers, and using drop and hook when possible, can save drivers nearly an hour compared to live loads.
Be carrier friendly. Shippers should consider offering flexible appointment times and extending their hours of operation. In addition, providing safe overnight parking, or suggesting nearby parking can save drivers from eating into their hours of service while searching for a spot to park for their 10 hours off.
Improve staffing. Shippers should consider hiring additional staff during peak seasons.
The ELD mandate will have a major impact on shippers, drivers, and many others within the supply chain. Actively seeking out ways to efficiently load and unload trailers and decreasing driver wait time will go a long way in lessening the inevitable challenges that will come with this mandate.
To review your organizations preparedness for upcoming legislation and supply chain challenges in 2018, schedule a review with one of our Logistics professionals today. Visit us @ http://www.Land-Link.com.